Pena and Valdez star for Astros as Guardians shut down Yankees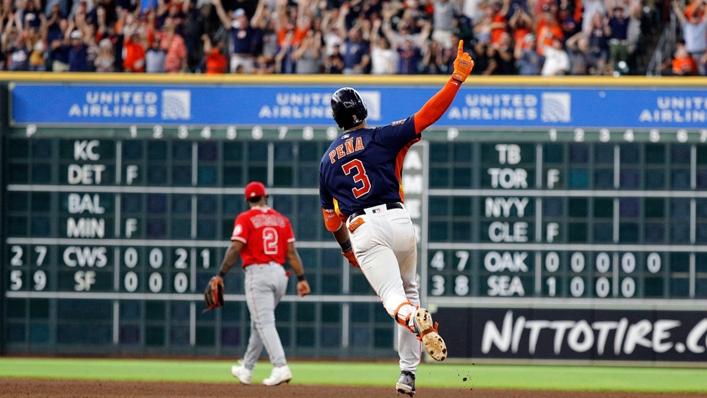 Framber Valdez and Jeremy Pena starred as the Houston Astros claimed their sixth consecutive win on Sunday, defeating the Los Angeles Angels 4-2 on Sunday.
Helping the Astros secure the sweep in a three-game series of divisional ball in the American League West, Valdez struck out a career-high 13 batters in six innings, allowing two runs on three hits and five walks over 107 pitches.
Meanwhile, Angels star Mike Trout did not claim a hit from four at-bats on Sunday, finishing the three-game series on zero-for-11 on nine strike outs.
Astros rookie Pena homered twice on the other hand, with a two-run shot with two outs in the ninth inning off Ryan Tepera walking his side off.
The Astros moved to 51-27 for the season and took full advantage of the AL-leading New York Yankees' loss, moving to within six games.
Guardians combine for one-hitter
The Yankees were kept scoreless by the Cleveland Guardians, who bounced back from Saturday's double-header sweep to win 2-0 on Sunday.
Guardians starting pitcher Triston McKenzie shut the AL-leaders down over seven innings, striking out seven over 92 pitches, with Eli Morgan and Emmanuel Clase cleaning up for a combined one-hitter.
Franmil Reyes drove in both runs for Cleveland, with a solo home run off Jordan Montgomery in the fourth inning before an RBI single in the eighth.
Narvaez nails Thompson for Brewers win
Omar Narvaez propelled the Milwaukee Brewers to their seventh win in the last 10, as they defeated the Pittsburgh Pirates 2-0.
The 2021 All-Star proved the difference in an otherwise tight game, giving the Brewers their two runs with a two-run shot off Zach Thompson in the fifth inning.
Brandon Woodruff was solid on the mound, striking out eight despite six hits to keep the Pirates scoreless over his six innings, as the National League Central leaders moved to 46-35.