Pelicans star Williamson 'moving faster, jumping higher'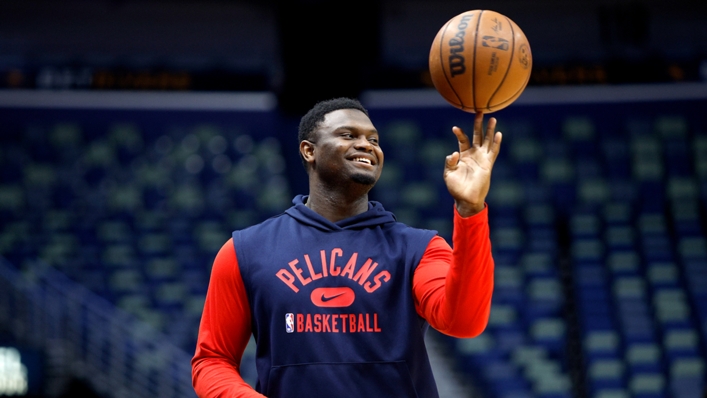 The New Orleans Pelicans were a pleasant surprise last season playing without their best player, earning a postseason berth in the NBA's play-in tournament and giving the top-seeded Phoenix Suns a compelling six-game series.
But to achieve more, the Pelicans will need a healthy Zion Williamson on the floor.
If the star's comments at the Pelicans' media day are any indication, New Orleans should finally see their roster at full force in 2022-23.
"I feel like I'm at my best right now," Williamson said. "I feel like I'm moving faster, jumping higher. I feel great."
At last year's media day, the Pelicans announced that Williamson had a broken right foot. The team and fans alike spent all last season waiting for a return that never came due to a series of setbacks.
Williamson, who has played 85 career games since being drafted first overall in 2019, last stepped foot on an NBA court on May 4, 2021.
"That's a long time without playing a game, but my excitement level is through the roof," Williamson said. "I'm just ready to get back on the court."
Despite his injury history, the 22-year-old forward said he is confident he will be healthier going forward, crediting the guidance of veteran teammates C.J. McCollum, Garrett Temple and Larry Nance Jr.
"I learned a lot from a nutrition standpoint, from working-out standpoint, how long I need to be in the gym and the most efficient way to work out," Williamson said.
McCollum, who received a two-year, $64 million contract extension last weekend, was a scoring machine down the stretch for the Pelicans after being acquired at last season's trade deadline.
The 31-year-old guard averaged 24.3 points in 26 games with the Pelicans last season, while Brandon Ingram scored 22.7 points per game.
Reincorporating Williamson – who was a 27-point scorer in 2020-21 – to that mix is a challenge that head coach Willie Green welcomes.
"I go back and watch film, watch some things that work, and then it's constantly talking with him, talking to the coaching staff and figuring out what works," Green said. "If it works, we will try to make sure we add it. If it doesn't, we move on.
"But it'll be a progression with Zion, and it won't be a thing where right away we see the Zion that we're accustomed to seeing. I think it will be a progression based on him missing the time that he missed."
While Green may be trying to temper expectations early this season, Williamson is expecting immediate chemistry with his teammates.
"I think it's gonna be really easy for me to fit in with my teammates because they play the game the right way," Williamson said. "Nobody's selfish. Everybody wants to see each other succeed.
"Now, there are things we are gonna have to learn. Like I'll have to learn how to play with C.J. and [Ingram] on the court, learn how to play with Jose [Alvarado], Trey [Murphy], Herb [Jones] because I haven't played with those guys yet, but from watching film, it looks like it is gonna be an easy fit."
Tags