Patriots blocking out the noise after stretching win streak to six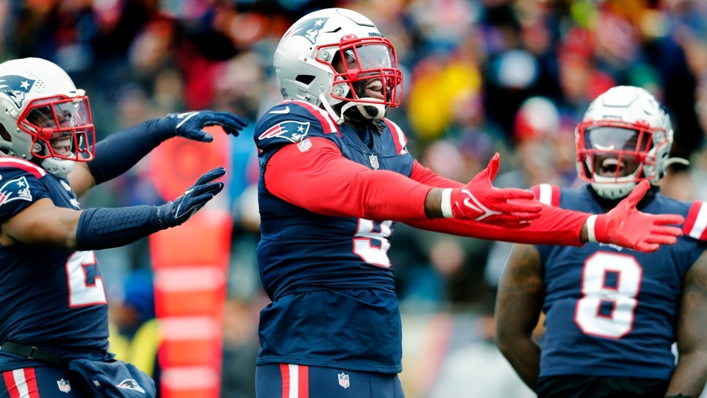 The New England Patriots are ignoring the noise surrounding their six-game winning streak after maintaining that run by brushing aside the Tennessee Titans.
A dominant second-half showing propelled the Patriots to a 36-13 win over a banged-up Titans team that had previously been the top seed in the AFC.
It is now the Patriots who have their eye on the number one seed after displacing the Titans, with only the Baltimore Ravens (8-3) above the 8-4 Patriots in that race.
But head coach Bill Belichick and his players are giving little regard to talk of their playoff positioning with five games still to play in the regular season.
"Eight games – look, eight games isn't enough to clinch anything or win anything," said Belichick. "We have a long way to go."
Edge rusher Matthew Judon, who registered another sack to take his tally to 11.5, insists the Patriots are in the same place mentally as they were prior to the winning streak and rejected claims of this being a statement victory for New England.
"It is the same confidence. We didn't change, we won't waver and it is the same confidence we had when we were 2-4," Judon replied when asked about their confidence level.
"It doesn't matter if it is a tight game or a blowout, our confidence won't change and we won't waver as a team, as a unit and as players. We come in this building to work every day and we are only going to continue to get better."
"I think someone asked me that a couple weeks ago and the statement or whatever you want to call it, is we have to come out here and win every single game.
"One week at a time so if we don't give up any points and no yards, that game is a statement and every week we have to strive for a statement win.
"If you want to call this a statement or if you just want to call it the next game, we just have to take it week by week and go out there. The statement for us is on to the next week."
The Patriots face the Buffalo Bills, whom they have leapfrogged for the AFC East lead, in Week 13.
And wide receiver Kendrick Bourne, who scored two touchdowns against the Titans, believes that could be the game to give a clear picture of where the Patriots stand.
"I don't think there is a ceiling at all. We try to emphasise that. [Matthew] Slater just talked to us after about not getting overzealous about ourselves," said Bourne. "Just being in the moment and playing each game, each week, and thinking about that game.
"We're onto Buffalo now and that's the focus. That'll be good for us to just certify ourselves."