Panthers acquire Tkachuk from Flames for Huberdeau in blockbuster trade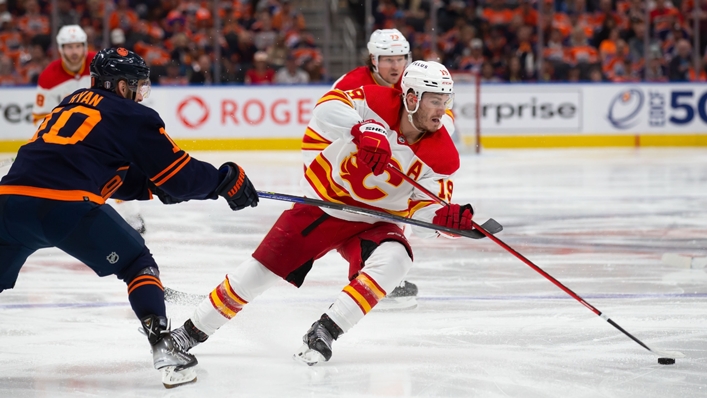 Matthew Tkachuk will be trading his winter coat and gloves for sunglasses and sandals after a blockbuster trade sent him from the Calgary Flames to the Florida Panthers on Friday.
In a deal with two of the league's best players swapping teams, the Panthers acquired high-scoring forward Tkachuk from the Flames in exchange for Jonathan Huberdeau, defenseman MacKenzie Weegar, prospect Cole Schwindt and a conditional 2025 first-round draft pick.
Tkachuk, coming off career bests of 42 goals, 62 assists and 104 points this past season, signed an eight-year extension with Florida, a deal that will keep him with the team through the 2029-30 season. He said earlier in the week that he would not sign a long-term contract to stay in Calgary and that led to trade talks, with no shortage of teams hoping to land the 24-year-old.
''Matthew is a tenacious, physical competitor who possesses a tremendously unique skillset,'' Panthers general manager Bill Zito said. ''He is a consistent elite offensive contributor and has emerged as one of the most complete and dynamic young players in the National Hockey League. We are thrilled to be able to add a generational talent to our lineup.''
The Flames, who recently lost standout forward Johnny Gaudreau to free agency, get back a big-time playmaker in Huberdeau, who tied a career best with 30 goals last season, while setting personal bests with an NHL-high 85 assists and 115 points. Only Connor McDavid (123) had more points last season than Huberdeau, the Florida franchise leader in games, assists and points.
''We would like to thank Jonathan and MacKenzie for their immense contributions to the Florida Panthers, both on and off the ice, during their tenures in South Florida,'' Zito said. ''They have both blossomed into exceptional athletes and people. Their contributions as players and people made an indelible mark on our franchise.''
Weegar tallied eight goals with 36 assists last season in 80 games for the Panthers, who had a league-best 122 points in 2021-22 and won a playoff round for the first time since 1996 before they were swept by Tampa Bay in the second round.
Both Huberdeau and Weegar are set to be unrestricted free agents next summer.
Tags