Pacquiao set for second return from retirement as Benn plots comeback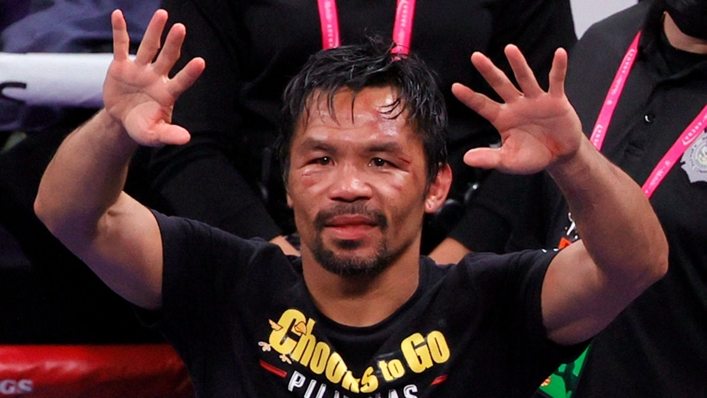 Manny Pacquiao is set to come out of retirement for the second time, with a welterweight bout against Conor Benn on the cards.
The Filipino, who announced he was quitting the sport once again in August 2021, looks poised to be the opponent for the Briton's comeback bout.
Benn, who saw a fight with Chris Eubank Jr postponed after he tested positive for a banned substance in October, was reinstated to the WBC rankings earlier this year.
Now Pacquiao, who stepped back after a defeat to Yordenis Ugas in order to run for the Philippines presidency in last year's election, could be his return opponent, according to his promoter Sean Gibbobs.
"He retired for a minute to run for president of the Philippines, where he took a respectful third place," he told ESPN.
"After that he felt that his retirement was due to running for president, and now that [he wasn't elected], he wants to fight again and feels like he can do it at the highest level.
"Manny is an all-time great and he feels like he still has a lot of fight left in him and he still wants to compete at the highest level.
"This fight [against Benn] was presented to him by [promoter] Eddie Hearn, and he agreed. [The] ball is in Eddie Hearn's court [but] Pacquiao ready to go."
Widely considered one of the sport's all-time great fighters, Pacquiao held world titles in eight different weight divisions across a 72-fight career, with a 62-8-2 winning record.
He briefly retired in 2016, but returned that same year with a win over Jessie Vargas, and would present a starry opponent for Benn's first fight since April last year.
The Brit remains barred by the British Boxing Board of Control to fight on home soil, with his likely comeback match set to be pencilled in for June 3 in Abu Dhabi.
Hearn acknowledged there were other options for the fight though, adding: "We are in the process of selecting Conor Benn's next opponent and have been in active talks with Manny Pacquiao's team.
"We have had multiple site offers to stage the event and are looking to make an official announcement on Conor's next fight as early as next week."
Tags