Orioles starter Kremer pitches a shutout against the Astros, Yankees beat the Red Sox
Liam Phillips
Stats Perform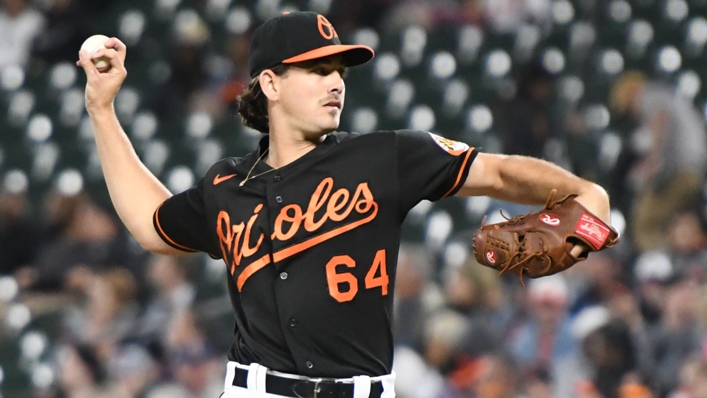 The Baltimore Orioles gave their fans a glimpse into an exciting future as starting pitcher Dean Kremer and rookie catcher Adley Rutschman delivered in a 6-0 win against the Houston Astros.
Houston entered the contest with a seven-game lead atop the American League standings, but they were no match for Kremer in what ended up being the first complete game shutout of his career.
Kremer, 26, is in the midst of a breakout season, with nine scoreless innings against the Astros bringing his ERA to 3.07 from 114 innings this year – a sharp improvement from his 7.55 ERA in 53 innings a season ago.
Overall, Kremer allowed four hits and two walks in the complete game, and he received some solid run support from another young star on his team.
Rutschman, 24, would be considered a strong chance for Rookie of the Year if Seattle Mariners phenom Julio Rodriguez had not already locked up the award, and the young catcher finished three-for-three at the plate on Friday.
He singled in his first at-bat, followed by a solo home run in the fourth inning, and a double in the seventh.
With the win, the Orioles are now three games behind the Mariners in the race for the last AL Wildcard spot.
The wrong Aaron homers for the Yankees
Aaron Judge remains one home run away from the American League and New York Yankees' single-season record, but his side emerged 5-4 victors against the Boston Red Sox with the help of his namesake.
It was Aaron Hicks doing the damage for the Yankees, hitting a solo home run in the third inning and an RBI single in the fifth to score the first two runs, before Gleyber Torres' two-run single doubled their advantage to 4-1.
A three-run homer to Boston's Alex Verdugo tied things at 4-4 in the sixth inning, but All-Star catcher Jose Trevino tacked on the winner for the Yankees with a single in the eighth inning.
Judge finished one-for-four with a single and two strikeouts.
Nola, Hoskins dominate the reigning champions
Aaron Nola and Rhys Hoskins were at the peak of their powers to help the Philadelphia Phillies to a dominant 9-1 home win against the reigning World Series champion Atlanta Braves.
Already leading 2-0 in the second inning, Hoskins stepped up to the plate and added two more runs with a double, and he chipped in another two with a homer in the fourth inning on his way to final figures of three-for-four with four RBIs.
On the mound, Nola was terrific, striking out eight batters in six scoreless innings, allowing four hits and three walks.