LiveScore's resident golf expert Matthew Hill reflects on a gutsy Charles Schwab Challenge success for Jason Kokrak, along with Jordan Spieth's driving woes and a closer look at this week's tasty Memorial Tournament field.
Jason Kokrak removed his name from the PGA Tour's list of one-hit wonders when holding his nerve to down Jordan Spieth in a dramatic Sunday shootout at last week's Charles Schwab Challenge.
Kokrak, 36, landed his maiden win at the 233rd attempt last year but hasn't needed anywhere near as long to repeat the trick — producing a savvy, tactically astute four-day display to emerge triumphant from the rigours of Colonial Country Club.
His two-shot triumph was all the more impressive given Sunday's final round pitched him not only against the much-fancied Spieth, but also versus a raucous Texas crowd who were firmly behind their hometown hero and three-time Major winner.
"I think going against such a tough competitor and a local guy in Jordan made it a little tougher," Kokrak admitted.
"The fans were cheering him on, and I definitely wasn't the favourite going into Sunday.
"You're trying to think about playing the golf course, just playing yourself really — not playing Jordan. But we were both a few strokes clear of the rest and I obviously was aware that it was going to become a bit of a boxing match.
"Both Jordan and myself didn't play particularly well [on Sunday]. He played okay for a few holes, then I played okay for a few holes.
"Neither of us pulled too far clear and you know you are always still in it around this place when you're only one or two shots back. I just had to stay focussed throughout.
"I didn't really end it like I wanted to in terms of my score, but I think I showed that I have a lot of grit and fight in me."
After battling his way into a two-stroke lead with just four holes to play, back-to-back bogeys on 15 and 16 left Kokrak floundering and jolted the pro-Spieth crowd alight, setting the scene for a swashbuckling finale.
Yet a clutch putt on 17 followed by a solid, no-nonsense approach on the last saw the Ohio native over the line — upsetting the odds and surely throwing himself into Ryder Cup contention in the process
"Whether I'm considered as being in the mix or not, I'm not too sure," he said. "Regardless of that though, I've had an incredible year.
"To make something like a Ryder Cup has been a life-long goal of mine, so of course I'd love to be picked. To help the team in any way and assist in bringing home the trophy would be a great honour."
No excuses from off-colour Spieth
While Kokrak still likely has work to do to earn his Team USA spot, Spieth looks a cast-iron pick for the home team at Whistling Straits this September.
Yet the popular 28-year-old, who has been enjoying a glorious renaissance in recent months, left his home state reflecting on what could have been after closing an impressive week out with a bitterly disappointing three-over-par 73.
"I just didn't play well at all today," Spieth said in the aftermath. "I could've shot even par and won the golf tournament, but just from the very get-go, it wasn't going to plan.
"It's normally easier. I normally strive on those type of head-to-head situations but today I was taking the club back and just had no clue where the ball was going to go.
"That certainly isn't an enjoyable feeling, but I've never been shy on grit and I know that anything can happen in this game. It was still with me until that shot came off left on 18, so what can I say — I just played a bad round of golf.
"I made a really bad start and tried to fight my way through it, but I was just really off. I lost control of my golf swing this weekend and you simply have to be in control around Colonial."
For someone who has only recently ended a three-and-a-half-year barren run on the PGA Tour, such woes could easily be interpreted as a red flag with the year's next Major — the US Open — now just over two weeks away.
Yet for Spieth, it's simply a case of focussing on what did work rather than what didn't.
"I putted really well this week," he explained. "I made a few good par saves where the putt had to start quite a bit outside the hole, from ranges where I've just been struggling to hit solid putts for a while.
"That was a big move but, to be honest, I've been striking the ball beautifully this year. So I've just got to hit the reset button and then get to work for the next few days.
"I'm not going to let the weekend throw me away. I'll go off the positives of the ball-striking recently and then, in terms of this week, take the positives from the putting."
Strong field head to Jack's Place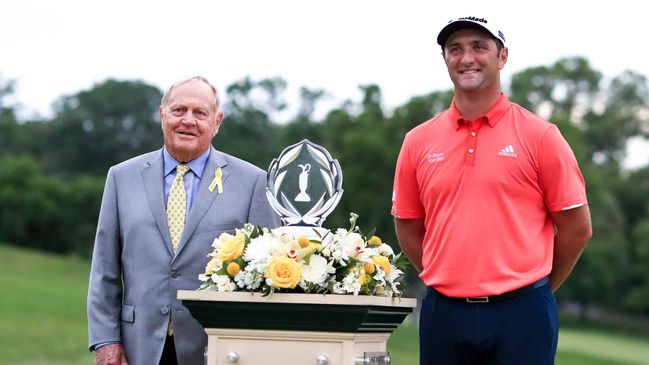 Muirfield Village plays host this week as an eye-catchingly strong field of 120 PGA Tour pros head to Ohio for the 2021 Memorial Tournament.
Designed by the great Jack Nicklaus, one of the tour's most recognisable tracks has provided a consistently tough test since its addition onto the annual schedule back in 1974.
Nicklaus has made a habit of tweaking things on a regular basis to keep competitors on their toes and this year has been no exception, with all 18 holes having had some kind of work done to them over the last 12 months.
Jon Rahm arrives as defending champion after a dramatic victory in 2020 saw him move to the top of the world rankings for the first time in his career, with the Spaniard well-fancied to put up a strong defence of his title.
Yet with Spieth, Rory McIlroy, Bryson DeChambeau, Justin Thomas and a host of other household names set to be in attendance, this year's renewal looks a particularly wide-open affair.
We'll have all the fallout from that event, along with all the latest news from around the golfing world, in next week's edition of On The Tee.