LiveScore's golf expert Matthew Hill gets you up to speed on what has been a crazy week on the fairways.
Heartbreak for Rahm
The dramatic forced withdrawal of runaway leader Jon Rahm from the 2021 Memorial Tournament dominated headlines around the sporting world on Saturday evening.
Rahm, 26, produced one of the finest rounds of the year at Muirfield Village when carding a majestic eight-under-par 64 that saw him streak six shots clear of his nearest rivals.
Yet the ecstasy of that performance turned to agony moments later, with the Spaniard informed when making his way off the 18th green that he had tested positive for coronavirus and needed to enter immediate isolation.
It was a bizarre scene for onlookers in Ohio as PGA Tour officials broke the news to the dejected reigning champion, who fell to his knees and looked close to tears when receiving the news.
Soon after, both the Tour and Rahm himself confirmed things in writing, with the Spaniard putting out an extremely dignified statement in the circumstances.
"I'm very disappointed in having to withdraw from the Memorial Tournament," Rahm said. "This is one of those things that happens in life where how we respond to a setback defines us as people.
"I'm very thankful that my family and I are all okay. I will take all of the necessary precautions to be safe and healthy and I look forward to returning to the golf course as soon as possible."
In the aftermath, there were clamours from fans to let Rahm play his closing round on his own — however, that was never considered a feasible option due to the strict Covid-19 protocols the sport currently has in place.
Rahm, who was taking part in more frequent testing after having made close contact with a Covid-19 positive individual, had returned multiple negative tests earlier in the event.
However, once Saturday's sample came back positive after both initial and secondary examinations, the Tour were left with no choice but to pull him from the event.
Tournament host Jack Nicklaus expressed his disappointment at the situation, too.
"I'm told he handled it with a lot of class," said Nicklaus. "He understands we have rules and unfortunately the rules are not something that you may like but they are the rules we have right now. You have to abide by them.
"I don't know how you send him a trophy for three-quarters of a tournament but I'd certainly like to."
Although things would eventually conclude via an epic shootout between Collin Morikawa and Patrick Cantlay, there's no doubting that Rahm-gate overshadowed what was to come 24 hours later.
Cantlay keeps cool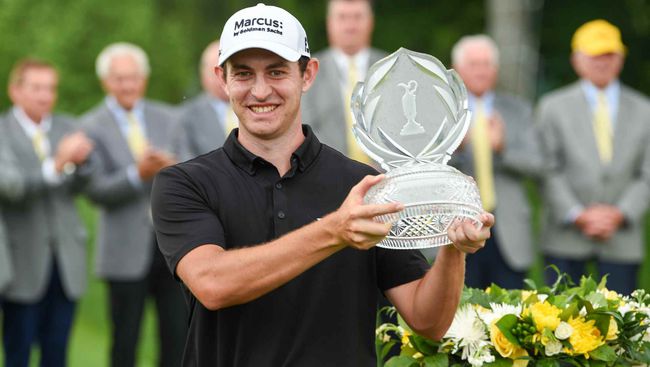 One man's loss is another's gain — that was certainly the case for 29-year-old Cantlay, who held his nerve to edge out countryman Morikawa in a dramatic playoff hole.
Already a winner of this event back in 2019, the Californian arrived on Sunday knowing his playing partner was likely to provide his biggest threat with the pair three shots clear of the chasing pack.
A solid if a little unspectacular tussle burst into life on the 17th green when Cantlay, trailing by one shot, sunk a 24ft birdie putt to tie things up going onto the last.
He nearly repeated the trick minutes later when whistling a 25ft birdie try past the right edge for the win, but it would require a second trip down the last to separate the final duo.
The playoff hole itself seemed to flip-flop by the stroke, with Morikawa initially grabbing the advantage when striping his drive down the middle before Cantlay sliced his wildly right into the rough.
His recovery shot was impressive however, finding a kind lie in a greenside bunker after his playing partner had come up well short with his own approach thanks in no small part to a rather unfortunate mudball.
When all was said and done, Cantlay drilled in a gutsy 12ft par putt and Morikawa finally cracked — sliding his attempt narrowly right to hand his opponent the victory.
After taking the title, Cantlay was all too aware that his fourth PGA Tour victory came with somewhat of an asterisk next to it.
"It was very unfortunate," he said. "Jon played so amazing the first three rounds that the way I felt Sunday morning was obviously a lot different than I felt walking off the 18th green on Saturday.
"I thought I did a good job of staying focused. It really felt like a battle between Collin and I all day and that's just kind of how it played out.
"There's maybe a little hint of something I can't quite put my finger on, but I mean, the emotions I feel out there and the focus that it took today was just as any other tournament.
"I think I'll definitely remember it slightly different, but it felt no different. And it is a very unfortunate situation and not anything I would wish on anybody."
Cantlay moves up to No.6 in the official golf world rankings and will be a popular pick for glory at the US Open at Torrey Pines in a fortnight's time.
In other news
Marcus Armitage fired a spectacular final round of 65 to land his maiden European Tour title on Monday at the European Open in Germany.
Renowned as one of the Tour's toughest tracks, Armitage, 33, came from four shots back at the start of the day to post an outstanding target, which none of his competitors were able to quite reach.
Fellow Englishman Matthew Southgate and Dutch star Darius van Driel finished two shots back in the end, with Southgate's errant drive on the last costing him any chance of the birdie he needed for a playoff.
Armitage — one of the Tour's most popular members, renowned for his jovial nature on social media — will now feature at Torrey Pines as a result and is sure to cherish the experience stateside.
"It hasn't really sunk in yet. It's a new feeling I suppose," Armitage said. "When I had a practice round the other day, I've never lost so many balls in a practice round in my life!
"Twenty years ago I lost my mum and I've dreamt about this since that day, being a winner, and you have days where you think it might not happen but I just stuck at it."
Meanwhile, Yuka Saso became the first ever golfer from the Philippines to win a Major championship on Sunday when the 19-year-old took advantage of Lexi Thompson's collapse to land the US Women's Open.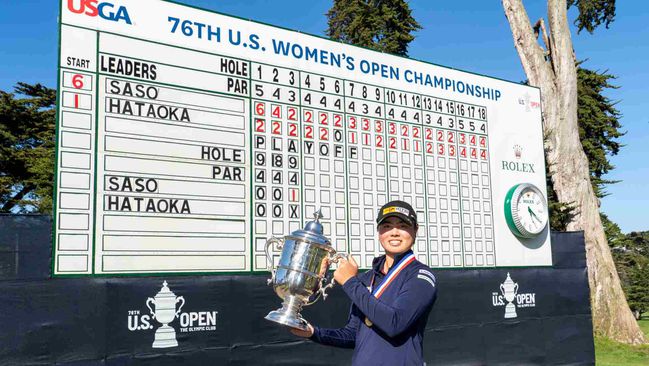 Saso, who says she modelled her swing on that of Rory McIlroy as a youngster, was a whopping six shots back after consecutive double-bogeys on the second and third holes left her seemingly out of contention.
But a determined remainder of her round — coupled with Thompson's implosion which saw the American drop five shots in her last eight holes — left the youngster in a playoff with Japan's Nasa Hataoka.
Despite boasting far less experience than her opponent, it was the youngster who reigned supreme, sinking a nerveless birdie on the third playoff hole to land a famous triumph.
"For the first few holes I had two double bogeys, and I was actually a little upset," said Saso.
"But my caddie talked to me and told me to just keep on going because there's many more holes to go, so that's what I did.
"I don't know what's happening in the Philippines right now, but I'm just thankful that there's so many people in the Philippines cheering for me.
"I don't know how to thank them. They gave me so much energy, and I want to say thank you to everyone."