EXCLUSIVE
On The Spot with Forest boss Andy Cook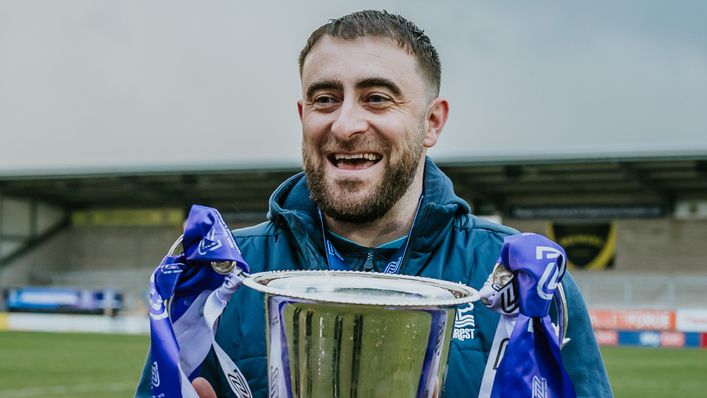 Nottingham Forest manager Andy Cook sat down for a chat with LiveScore this week to discuss his Women's Super League aims, a genius position switch for one of his players, the impact of England's success and much more.
Read on as he reveals all ahead of Saturday's Women's National League play-off final between the East Midlands outfit and Watford.
Andy, great to speak to you. What is the ceiling for your Forest team — is promotion to the WSL in 2024-25 a realistic possibility?
We have to get through this game first and beat a very good Watford side! But from a club point of view, and from the conversations I have had over the years, we want to get into the WSL.
Where we are, with the men hopefully securing their Premier League status and us hopefully securing Championship status for next season, it's just a case of building from there.
I took over the team when they were 10th in the Northern Premier. We're on a really good upward trajectory and we need to capitalise on that.
Has the rise of Forest men's side in recent years further motivated your team?
We've got a lot of players from Nottingham who are Forest fans and there's a lot of girls — and also myself — who are not from the city and who just fall in love with the club. Once you are here, it really takes hold of you.
The way the men's team has played since Steve Cooper arrived has been fantastic. We were all at the Championship play-off final at Wembley.
This season, we have won the league and the cup and we got a lap of honour at half-time of the Southampton game — the reception was brilliant, as good as I have seen.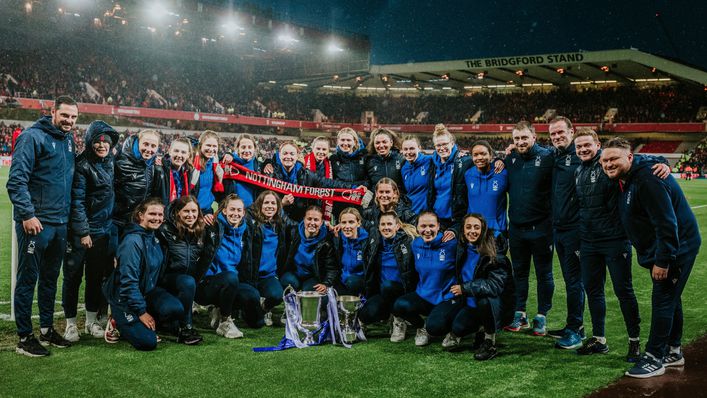 Would that kind of reception have occurred if the Lionesses had not won Euro 2022?
I cannot answer that as a whole but it obviously helps because it puts women's football in the mainstream.
People have seen teams perform really well and players perform really well. You look at the likes of Beth Mead, Alessia Russo, Ella Toone and Leah Williamson captaining the side.
That's what we're seeing and if you put it in front of people, they will watch it. The reception [at Southampton] goes hand-in-hand with the growth of the game.
Can you see this year's World Cup giving the women's game another massive boost?
With the World Cup coming just after the Euros, the game is only going to go one way. If England can do well, things are only going to increase tenfold again.
Success breeds more success, people want to be around it and you've only got to look at the Women's FA Cup final last weekend.
It was sold out at Wembley, the biggest attendance for a domestic game in this country and that is because of the product.
Back to your team ahead of Saturday's final at Stadium MK. Who for you has been Forest's standout player — or players — this season?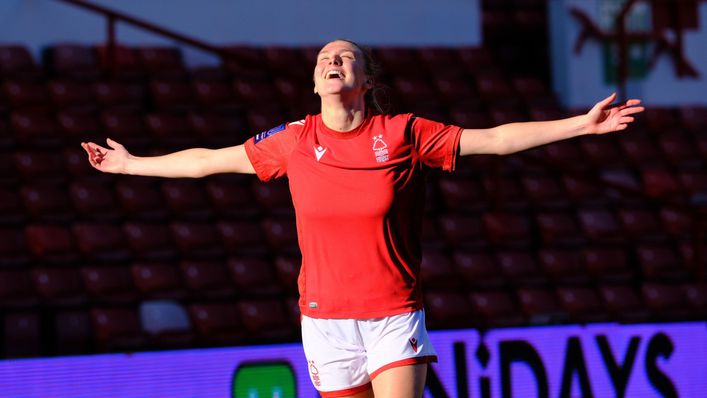 First, Emily Batty in goal. Over the season, she has had 14 clean sheets and in the [Women's National League] cup final she made some fantastic saves at crucial times.
Second, at the other end of the field, Charlotte Greengrass. She's scored 22 goals and up until this season was always used as a left-back or centre-back!
In the summer I said to her: "I'm going to use you as a centre forward, we are not going to look for one because I think we can use you there."
Last season we moved her up front with 11 games to go and she ended up scoring 10 goals in that time. Then this season, she has further repaid our faith.
Tags