Anthony Ogogo has vowed to leave Cody Rhodes seeing stars on Sunday night.
After a series of painful operations, an eye injury forced the Brit to hang up his boxing gloves in March 2019.
But the Olympic bronze medallist quickly bounced back from that heartbreaking setback, with his passion for professional wrestling setting him on a new career path.
His name will be in lights once again when he collides with All Elite Wrestling superstar Rhodes, who just happens to be the company's executive vice president.
Ahead of that huge showdown at the Double or Nothing PPV in Jacksonville, Florida, 32-year-old Ogogo — or The Guv'nor as he is known in AEW — took time out for an exclusive chat with LiveScore.
Anthony, first and foremost, congrats on how well things are going with AEW. It's been quite a journey so far...
Thank you very much! I signed in the summer of 2019 as their first developmental talent. I was announced later that year but didn't start training until the following March because it took me seven months to get a visa. It was a nightmare!
They didn't want me to do any training before then because they didn't want me to pick up any bad habits — they wanted to start me off from day one until I got in the ring for the first time. So I arrived in March 2020 but got sent back home when the coronavirus pandemic hit.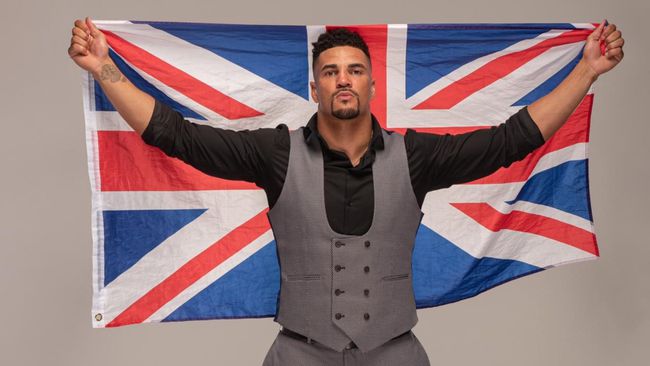 If you add up all the time I've actually been training, it's been less than 11 months. In short, I'm really, really brand new and it was recently suggested to me that the only two wrestlers with a similar lack of experience when they started out were Kurt Angle and Ronda Rousey.
They're two great names to be bandied around with but Kurt was training for ages before he debuted in WWE. He was in the developmental system and was doing small shows for months before appearing on TV. Ronda was the same. She was announced ages before her first match.
I've come in and I'm totally fresh, totally new. I'm learning as I go. My first match was last month and I'm learning in front of everybody. But under pressure, I come alive. It's going to be challenging and difficult, my back's against the wall, but I like that because it gives me the chance to come out swinging.
Your pro boxing career came to a premature end because of a severe injury to your left eye. How is that holding up and does it restrict what you can do in the wrestling ring?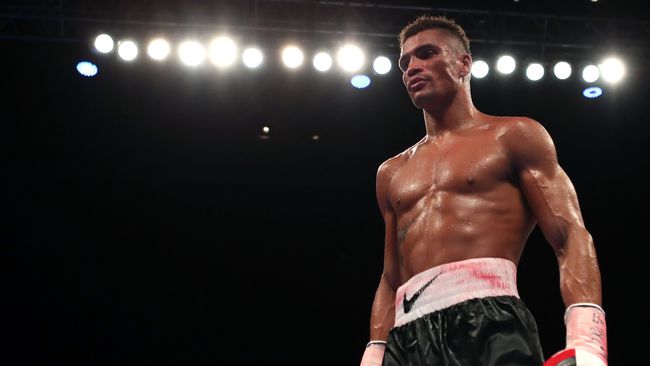 It massively hinders me — there's loads of things I can't do. I can't do any of the acrobatic stuff because I can't see very well. I had nine operations on my eyes in three years trying to get them right to be able to be box but to no avail. When I'm sitting still, when I'm driving or watching TV, I can see OK.
When I move around, my eyes don't move together so I'm always getting double vision. When you see me walk out of the tunnel on TV each week, I've got to really look down at the steps because I can't see them.
To have 3D and depth perception, your eyes have to work together. Because I'm 78% blind in that one eye, I haven't got very good depth perception. When you're running the ropes, you grab the top one with your right hand for safety. If you don't, you go over the top, but I often miss it because I get double vision.
My left eye is twisted in. Whereas you'd see three ropes, I see six. I'm just half hoping I grab the rope. At some point in my career, you'll see me miss it and fall over — that's a given.
And I'm going into this match on Sunday night with a broken rib. I'm sitting here now with a broken rib because I want to hit an elbow drop if I get a chance. I take inspiration from some of my favourite wrestlers, including The Rock, who uses an elbow drop.
While practising on Tuesday, because I can't look down without putting my whole head down, I did an elbow drop and misjudged where the guy was. Instead of my elbow hitting him, the back of my rib cage hit his shoulder. I'm sitting here in agony because I can't look down very well.
But when life kicks you where it hurts, you've got no choice but to get up and crack on.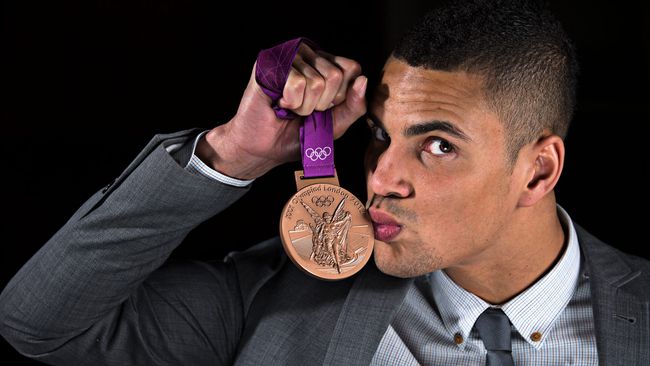 How heavily does your eye weigh on your mind?
I don't worry about it because it's my job to protect it. In a recent match against Austin Gunn, he threw me in the corner and you could see me blocking punches to my head.
I was giving him my body to hit to protect my eye. The injury took away my first love of boxing and I'll be damned if I let it take away a second thing I love. It's my job to stay as safe as I possibly can in an industry as reckless as wrestling.
If I lose the 22% sight I've got in that eye, my life is really buggered. I can't afford that to happen. It's about being smart and protecting myself.
What made you choose Tony Khan's fledgling AEW promotion?
I chose AEW because of Tony and Cody. When I flew to Atlanta to meet Cody, I loved his vision — and AEW hadn't even had a show at this point. Nobody knew how big they'd become but I believed in Cody.
I met Tony at a Fulham match in 2019 — he ditched football super agent Pini Zahavi so I could sit next to him. We spoke wrestling and football the whole day. I loved his passion and desire to do something great and I wanted to be part of it.
AEW have been nothing short of amazing to me, both from a professional standpoint and a personal one. Because of the pandemic, I've not seen my wife for six months. I'm not going to sit here and whinge but it's been very difficult. They've been as accommodating as possible and have been amazing for me as a person.
For anyone not up to date with what's been happening in AEW, you're being portrayed as a heel with a dislike for America. What's it like to play a bad guy?
I recently did a promo where I revealed my grudge towards the United States and it blew up. People either liked it or they didn't. The match with Cody had just been made so I slagged him off and I slagged America off — I said exactly what I wanted to from the heart.
It was me talking for two minutes about how I truly felt. I wouldn't have been able to do that in WWE. In AEW, part of the reason we're the best in the world is because we're going out being us rather someone else. We're round pegs in round holes.
Am I playing a heel? Ultimately, I want to be the best, I want to be the champion — that's all I care about.
As part of The Factory alongside QT Marshall, Aaron Solow and Nick Comoroto, you're feuding with Rhodes and The Nightmare Family. Considering the influence he has had on you, where does the rivalry come from?
Cody and I are very similar as people. We're both extremely driven and hungry to be the best — we want our face on every billboard. Everyone wants to be a big deal but not everyone is prepared to do the work to be 'the guy'. But I am.
We're both quite articulate, we both stand for something — we just stand for very different stuff. There's a natural rivalry because we're both the same person. The only difference is he's had a privileged upbringing and I haven't. That's why I think our rivalry is going to be such a magical one — not just on Sunday but over the years.
Cody is The American Nightmare, or The American Dream on Sunday because he's taking on his dad Dusty's moniker, and everyone in America loves him. So by taking him out, I'm the bad guy — but I don't agree with that. I'm just a man who had the whole world at his fingertips in boxing.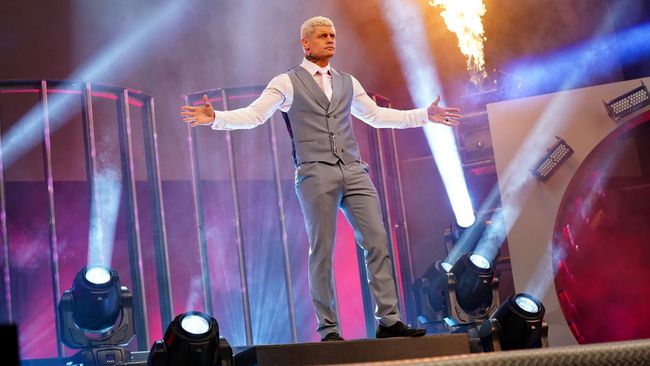 I did everything right. I was kind, polite, I was such a corporate guy — I never did anything bad. And then what happened? My whole life was ripped away in the cruellest fashion. I then had to sit there and watch people with half my ability go out and live my dreams. That hurt me.
Ultimately, how I feel now in this chapter of my life is I'm being 100% authentic. Like me or not, I don't really care. I just don't feel I've got to always say the right thing anymore. I'm going to be me.
I've got a bee in my bonnet. I've been a nice guy my entire life and I didn't get what I wanted. Now, let's try being a bit nasty, a bit spiteful. Rather than waiting for my opportunity, I'm taking it from the top guy — and the top guy is Cody. Once I beat him, AEW have no choice but to give me a title shot.
Did you come up with your ring name The Guv'nor or was it given to you by the AEW creative team?
It was my choice. AEW let me be me. This is me and I started to say it in training. The Guv'nor is me.
As suggested by your entrance theme, Hands Of Stone, your finishing move is a bone-crunching punch. If you could pick a more traditional wrestling finisher, what would it be?
You'll have to watch on Sunday! What I will say is I'm friends with Angle, who has been somewhat of a mentor to me. When I was struggling with my eyes, I was in a bad place. I spoke to Kurt quite a lot and he coached me through those bad times.
He was an Olympic gold medallist and he used the Olympic Slam as his finishing move as a pro wrestler. I've taken little bits from his repertoire and from other wrestlers I like — I'd be foolish not to.
As a kid, I loved The Rock. I loved how charismatic he was. You could see he was a star before he even stepped in the ring. With Kurt, I loved his intensity. When that bell went, he displayed the same realism as he did when he was wrestling at the Olympic Games. When the bell goes, I do the same. I'm the exact same killer in the wrestling ring as I was in the boxing ring.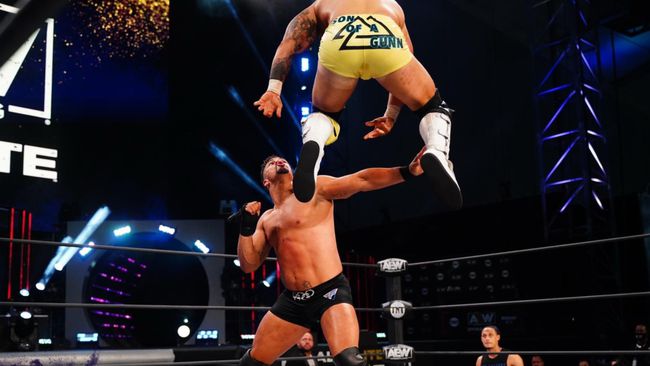 Before you go, what's your prediction for your match at Double or Nothing?
I'm going to smash Cody's head in! As you've seen, my matches so far have been quick — this will be no different.
He'll try to take my hands away from me, and I don't blame him for that because I'd do the same, but he'll have to get past my jab first, followed by my backhand.
In my opinion, Cody is the best wrestler in the world — but I'll stove his head in.
Anthony Ogogo and Cody Rhodes collide at AEW Double or Nothing on Sunday. Fans in the UK can tune in via FITE TV.