Obsessive Aguero set for glorious City goodbye... is Kane carnage next?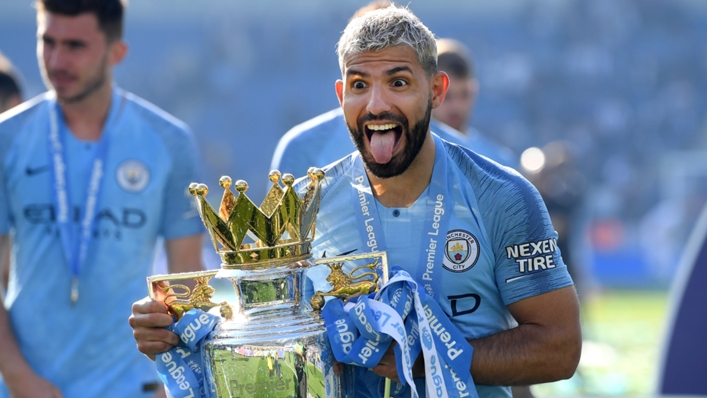 There might be few dry eyes in the house when Sergio Aguero bids farewell to the Manchester City faithful on Sunday, but it could be carnage if the Premier League champions replace him with Harry Kane.
Aguero, the leading overseas goalscorer in Premier League history and City's all-time record scorer, is set to play for the final time in England's top flight when Pep Guardiola's side host Everton before lifting the trophy for the fifth time in the Argentina international's 10 years at the club.
However, as is often the case in football and almost always true of the game's superstar forwards, plenty of attention has already turned towards the next move.
After 258 goals in City colours, Aguero has reportedly agreed a two-year deal at Barcelona, raising the tantalising prospect of a link-up with his great friend Lionel Messi.
Even though fitness problems have dogged his final year in Manchester, the 32-year-old will leave a considerable void, meaning Kane's apparent desire to leave Tottenham comes at an intriguing time.
"I think it will be hard to ignore the importance of all of these goals," former City defender Nedum Onuoha told Stats Perform when pondering life after Aguero.
"For Pep, it's about the collective, and if you can find somebody who fits into the collective and also has that desire for goals, then it's carnage.
"If City get Kane, if Kane's healthy for the whole time he's at City, with his footballing IQ, it could be absolutely outrageous. And I hope something like that does happen, it'll be a joy to watch.
"But then, in the same breath, in Pep we trust. He's found a way to get the team to play well to the point where we can see Raheem Sterling and Aguero sitting on the bench. That's over 300 goals for the football club."
Guardiola guiding an often striker-less team to the title means this season is arguably the fullest realisation of his tactical vision and also something unimaginable when Aguero fired 23 goals in his maiden Premier League campaign to win City a first league championship for 44 years in 2011-12.
Goal number 23 of that haul remains the moment that will define him, one that will be replayed countless times this weekend alone and still gives Guardiola – who was Barcelona head coach at the time – "goosebumps".
For Onuoha, a boyhood City fan who lined up for QPR on May 13, 2012, the memories of his former employers scoring twice in injury time for a 3-2 win to snatch glory away from Manchester United are not as warm and fuzzy.
Briefly, before learning Bolton Wanderers had failed to get the win they required at Stoke City, he thought Aguero's strike for the ages had condemned him to relegation.
"I was the last QPR player to touch it before they went on to score," Onuoha recalled. "So I thought I'd been relegated by my old team in my home town. It was an absolute disaster.
"There was an incredible, huge sinking feeling within me as he scored the goal and I didn't watch him celebrate or anything like that. But I remember looking at our bench and I saw them celebrating. From there it was a huge sense of relief. I looked at the QPR fans and knew we were safe.
"It took me two, three days to figure out who scored the goal. I didn't watch any TV or anything for days after, because the stress of it was just too much. So even though it was a very, very iconic moment, I would say myself and a few others, we didn't necessarily catch the best of it because we were very much living it.
"Even now, instead of feeling the emotion that people associate with that moment, I feel the exact opposite emotion because I remember thinking to myself, 'this is the lowest point in my career', but thankfully it never happened."
The most impressive element of Aguero's Premier League career is how it has consistently lived up to that finest hour through sheer weight of numbers.
Of players to have scored 20 or more goals, none can better Aguero's rate of one every 109 minutes in the history of the competition. That figure only climbs slightly to 128 minutes per goal against the so-called big six, with 44 in 75 appearances across those fixtures.
He has more hat-tricks than any other Premier League player (12) and only Alan Shearer (seven) has hit 20 goals in a campaign more frequently than Aguero, who accounts for six of the 10 20-goal seasons produced by City players in the division.
No player from outside Europe has more than his five top-flight titles in England but, even as a weekend victory lap looms in front of City's first home crowd of the season, another record is within reach.
Aguero's 182 Premier League goals make him the league's second highest one-club scorer, one shy of the 183 Wayne Rooney managed at Manchester United. It will not have escaped his attention.
"This is a guy that's obsessed with scoring goals," Onuoha explained. "Joleon Lescott told me if Sergio would see if the big players scored in games before him, it would doubly motivate him to go out and score in the next game.
"That desire to score goals is something that only exists in the people who do score the most, when you looking at Kane, looking at [Mohamed] Salah and so on, you know they all have that thing within them where like goals are everything to them.
"I spoke with Sergio just this week and asked him how many goals have you scored [for City] so far? And he said 258. I said, do you remember them? He said every single one. Every single goal."
After Everton there is the final frontier, the one major honour Aguero or City have not won during his prolific decade.
Even though he is highly unlikely to start next weekend's Champions League final against Chelsea, what price a decisive contribution from the bench at Estadio do Dragao? An injury-time winner that even Onuoha could fully enjoy this time around.
"The best-case scenario for me is Aguero starts the game and he scores five goals like a did against Newcastle a few years ago and City absolutely batter Chelsea in the final," he replied.
"I'm not for 90 minutes of stress. I'd rather he just went out as a dominant force. But yes, second best-case scenario, I'll take what you said."
***Nedum Onuoha's 'Kickback with Nedum' podcast is available via Apple, Spotify, Google and all other major podcast platforms***
Tags