NZ Rugby CEO admits to making mistakes before backing Foster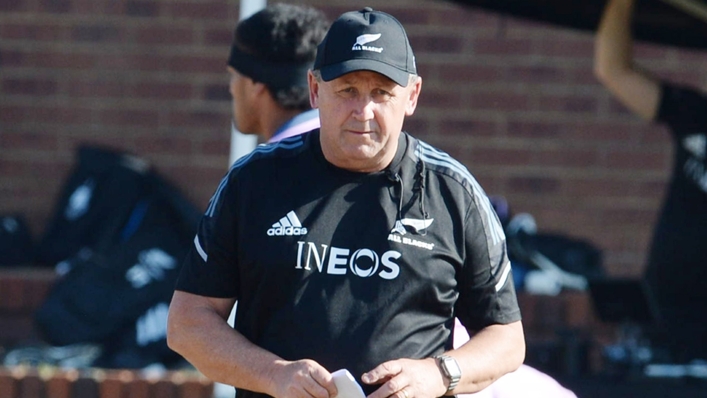 Mark Robinson accepts New Zealand Rugby made mistakes with the way they handled uncertainty over All Blacks head coach Ian Foster's future.
The NZ Rugby board on Wednesday gave Foster their "full support" to stay on until the Rugby World Cup in France next year and appointed Joe Schmidt as his assistant.
That announcement came just a few days after NZ Rugby chief executive Robinson stated that the governing body would "take stock" and hold a debrief following a 35-23 Rugby Championship win over South Africa on Saturday.
The win over the world champions at Ellis Park came after the All Blacks had suffered five defeats in six Tests and sunk to a new low of fifth in the world rankings.
Robinson had only guaranteed that Foster would remain head coach for the tour of South Africa and he admits NZ Rugby did not handle the situation as well as they could have done.
"We acknowledge we haven't got everything right, we're not hiding from that," he said during a press conference in Auckland.
"Aspects of the sequencing in how we interacted with media and the public is something we could have done differently."
Robinson added that "clearly some aspects of the interface between the media and the public wasn't as good as it could be."
He also conceded: "There's a few things we've done in recent times that could have been done better."
Robinson felt NZ Rugby had a difficult balancing act.
He said: "People want to hear what's going on, they want engagement and access and openness. When you attempt to achieve that, but you're not in a position to really say a lot, then the flip side is you are criticised for doing that. We are always learning.'"
When asked if stating that NZ Rugby would "take stock" following the win in Johannesburg last weekend added "fuel to the fire", Robison replied: "Hindsight's wonderful, isn't it?
"We were attempting to respond to a general demand to be want to be more open and want to be more transparent and give as much as we can possibly can at a time when people are curious, and we don't always make the right decisions.
"It's difficult, isn't it, if you don't say things and think of the best interests of the team and wait till they're out of the country, you're criticised for going missing in action.
"But if you turn up and do have something to say when you're not in strong position to say a lot of things, you get criticised for having to be in a position where you're not saying anything."
Tags