Pioli believes 'not much has changed' in Scudetto race despite Napoli slip-up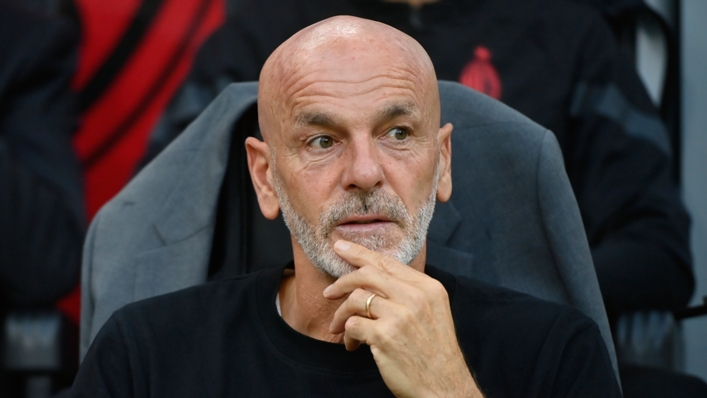 Milan coach Stefano Pioli insists Napoli's first Serie A defeat of the season has done little to alter the picture in the Scudetto race ahead of Sunday's clash with Roma.
Serie A champions Milan made a successful return to action following the World Cup break on Wednesday, beating Salernitana 2-1 after taking a two-goal lead within 15 minutes.
That result took the Rossoneri to within five points of leaders Napoli, a gap which the Partenopei failed to extend as they fell to their first league defeat of the campaign at Inter.
Milan ended an 11-year wait to capture the Scudetto with an outstanding run of form over the second half of last season, and Pioli feels they will need to produce something similar to see off the challenge of Napoli this term.
"Not much has changed with one game," Pioli said on Saturday. "We're not there to count the points behind.
"We have to make our run and we need a lot of points to win the Scudetto. We're thinking about playing well, raising the level and winning tomorrow.
"Roma are a strong, complete team, they have important offensive qualities and physicality. They lost against Napoli in the last few games and won against Inter, we will respect them a lot.
"Then there's us, our will and our determination. Let's get back to playing at San Siro and we will do it with enthusiasm and energy."
Pioli will be unable to call upon Mike Maignan against Roma, with the goalkeeper's recovery from the thigh injury which sidelined him for the World Cup taking longer than anticipated.
Asked when Maignan might return, Pioli said: "We don't have timings, we must not take any risks and I can't say if it will be two, three, four or five weeks.
"The muscle doesn't respond as it should, now I can't say when we will have him available."
Sunday's game will see Pioli do battle with Jose Mourinho, with the Milan boss being the only coach to face him more than once in Serie A and boast a 100 per cent winning record.
Following Roma's 3-1 defeat in this same fixture 12 months ago, Mourinho said he was "doubly happy" to have turned down the chance to coach Milan in 2019, but Pioli refused to be drawn into a war of words with his Giallorossi counterpart.
"Everyone can express their opinions," Pioli said when reminded of Mourinho's comments. "Milan was a great opportunity for me and I'll make the most of it as long as I can."
Tags