NHL games played leader Patrick Marleau retires after 23 seasons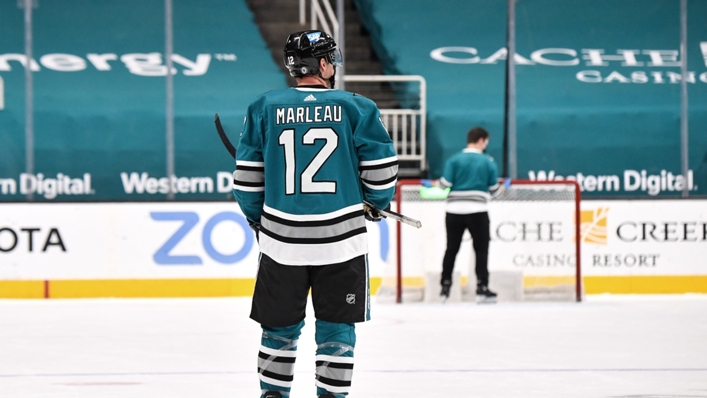 Patrick Marleau, the NHL's all-time leader in games played, is officially retiring after 23 seasons.
The 42-year-old Marleau, who spent 21 seasons with the San Jose Sharks while also playing for the Toronto Maple Leafs and Pittsburgh Penguins, announced his decision on Tuesday in a piece he wrote in the Players' Tribune.
"It's bittersweet for sure, but I have so much to look forward to," Marleau wrote. "Who knows what the world has in store for me?
"If you would have told that kid on the frozen pond that he would break a games-played record held by none other than Gordie Howe, he would have thought you were crazy.
"It was never something I aimed for; it was just me loving this game so much that I never, ever wanted to hang up my skates."
Marleau broke Howe's games-played record of 1,767 on April 19, 2021, and finished his career with 566 goals, 631 assists and 1,197 points in 1,779 games.
The second overall pick of the 1997 draft by the Sharks, Marleau is the most decorated player in franchise history, holding club records for games played, goals, points, power-play goals, short-handed goals and shots.
He made his NHL debut in 1997 and spent his first 19 seasons with San Jose before joining Toronto in 2017.
During his time with the Sharks, Marleau helped the club capture six division titles and earn 17 playoff berths, although San Jose lost to Pittsburgh in six games in his only trip to the Stanley Cup Finals in 2016. In 195 playoff games, Marleau amassed 72 goals and 55 assists for 127 points.
Marleau played in his final game almost one year ago on May 12, 2021, sitting out the 2021-22 season after not signing with a team.