NFL great Brady announces retirement and says this time it's 'for good'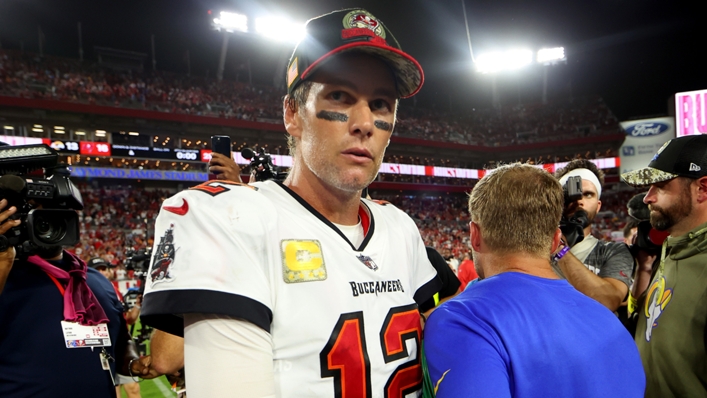 Tom Brady has announced he is retiring from the NFL and says this time it is "for good".
Brady spent 23 seasons at the very top of the game but announced his retirement on Wednesday.
The 45-year-old previously called time on his illustrious career a year ago, on February 1 2022, only to announce 40 days later that he was making a comeback.
But after one final season with the Tampa Bay Buccaneers, the legendary quarterback has said his playing days are over.
"I'll get to the point right away. I'm retiring, for good," he said in a video shared on his official social media channels.
"I know the process was a pretty big deal last time, so when I woke up this morning, I figured I'd just press record [and] let you guys know first.
"I won't be long-winded. You only get one super emotional retirement essay and I used mine up last year.
"Thank you guys so much to every single one of you for supporting me.
"My family, my friends, my team-mates, my competitors, I could go on forever, there's too many. Thank you guys for allowing me to live my absolute dream. I wouldn't change a thing. Love you all."
Brady bows out with seven Super Bowl wins to his name, while he was named Super Bowl MVP on five occasions and the NFL's MVP three times, in 2007, 2010 and 2017.
He spent the first 20 seasons of his career with the New England Patriots, before joining Tampa Bay for the 2020 season.
Brady's status as one of the greatest of all time was already assured, but he offered a reminder of his talents by guiding the Bucs to their first Super Bowl success since 2003 in 2021.
Only two QBs – Justin Herbert and Patrick Mahomes, who has taken the Kansas City Chiefs to another Super Bowl – threw for more yards than Brady (4,694) in the 2022 season, with the veteran tied eighth in the NFL for passing touchdowns (25).
Tampa Bay won the NFC South but lost to 31-14 to the Dallas Cowboys in the playoffs on January 16.
Brady's 649 passing TDs is a league record, way clear of Drew Brees in second place with 571, while his yards total of 89,214 is also the best of any quarterback in history.
Only four QBs have racked up more games than Brady's 335; Morten Andersen (382), Adam Vinatieri (365), Gary Anderson (353) and Jeff Feagles (352).
Tags