New contract brings 'sense of relief' for Pacers center Turner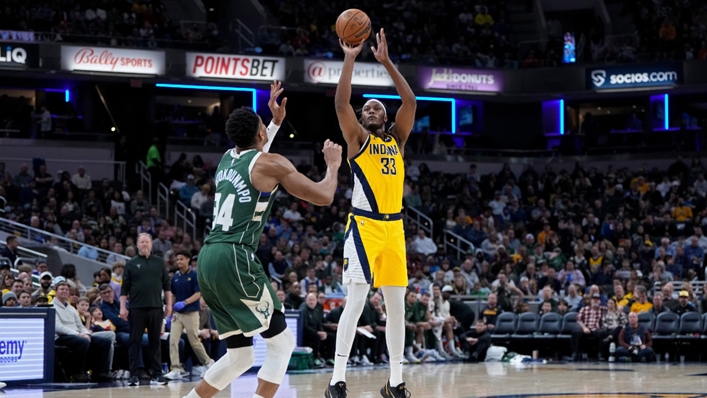 After hearing his name frequently mentioned in trade rumours the past few years, Indiana Pacers center Myles Turner finally has some long-sought piece of mind after he and the team agreed to a contract extension that was officially announced Monday.
"Definitely there's a sense of relief knowing there's some security and you can just play the game," Turner said at Monday's press conference confirming the new deal, which ESPN reported to be for two years and $60million.
"It [the trade rumours] is something I've been through my entire career. But I wanted to be here in Indy."
Turner's future in Indiana had been in question with the Pacers expected to be in a rebuild and the 26-year-old in the final year of his current contract. The Pacers seemed ready to move on this past summer when they signed Phoenix center Deandre Ayton to a four-year, $133m offer sheet that the Suns ultimately matched to keep the restricted free agent.
Despite continued interest from teams leading up to the February 9 trade deadline, the Pacers instead affirmed their commitment to the eight-year veteran and the team's longest-tenured player as one of its core members.
"As a staff, we were hoping this day would come very desperately," coach Rick Carlisle said. "Over the last year and a half, since he transitioned back to his natural position, the five, we've seen tremendous things."
Carlisle was referring to last February's trade of All-Star forward Domantas Sabonis to the Sacramento Kings, freeing up Turner as the primary interior presence while also landing standout point guard Tyrese Haliburton and long-range shooter Buddy Hield in return.
Turner has indeed thrived from both the switch and from playing with Haliburton, as he's averaging career-highs of 17.5 points and 7.8 rebounds per game this season while remaining one of the NBA's top rim protectors.
His 2.4 blocks per game places him fourth in the league, and if he can maintain that, it will be his seventh consecutive season in the top-five for blocks per game, having led the league in the 2018-19, 2020-21 and 2021-22 seasons.
"I think it made it easy, when given the full-time position at the five. That's something I was definitely looking for," he said. "Given the situation I'm in now where I do get to see expanded minutes at the five, that was one of the main things I was looking for."
The new deal, which added over $17m to Turner's 2022-23 salary to help the Pacers climb above the salary cap floor, also provides Indiana more flexibility going into the offseason with all five starters now under contract for next season.
Tags