Neville insists Messi to Inter Miami talk is 'hypothetical'
Peter Thompson
Stats Perform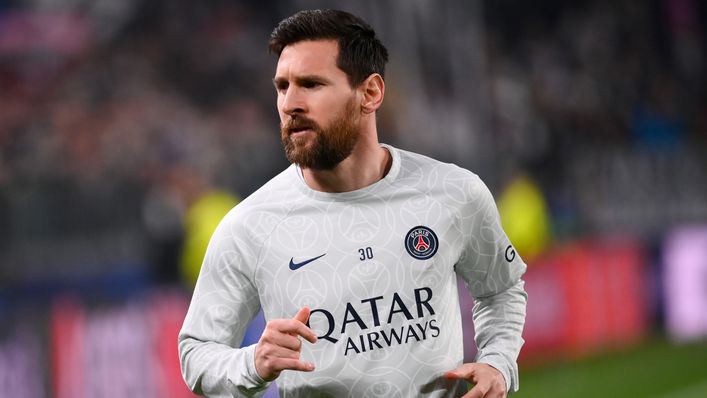 Phil Neville says it is "hypothetical" to discuss the prospect of Lionel Messi joining Inter Miami.
Messi is only under contract with Paris Saint-Germain until the end of the season and the mercurial forward has been strongly linked with a move to Miami.
Barcelona are also said to be keen to bring Messi back to Camp Nou in what would be a sensational return to a club he made a tearful farewell to in August 2021.
Inter head coach Neville, who signed a new contract on Monday, spoke of his admiration for Messi but refused to be drawn on speculation that he could move to Major League Soccer.
Asked about the possibility of signing Messi, the former Manchester United defender said: "I think that's hypothetical really. The best player in the world, I'm looking forward to seeing him play at the World Cup, alongside other great players.
"We actually let him inside our house about five, six weeks ago, when Argentina were here. I watched all the sessions to see those great players on our pitch one and pitch two. It was something really special for the club.
"And I think when you talk about characters, when you talk about humility, when you talk about the right type of people, that Argentinian squad and staff were absolutely incredible. Incredible towards our football club.
"We had a little scrimmage against them, the MLS 2 [MLS Next Pro] side, you obviously saw the pictures of their players signing autographs; signing arms, signing legs, signing shoes. It was just the most incredible week.
"I think we're really lucky here. We've had Barcelona here, we've had Argentina here, we've got the US national women's team here now, some of the players are training out there now. It's brilliant for this football club, and it shows the level of facility that we've got.
"I'm not going to speculate on any kind of transfer activity, but what I would say is that is exactly the type of character that I saw in that week, that those Argentinian players were a credit to their country, and to their profession."
Inter sporting director Chris Henderson also gave little away when quizzed about potentially bringing Messi to Florida.
He said: "I knew Messi would come up. It's great to be connected with amazing players and our club connected with that. I don't want to comment on someone who's not on our roster and speculation and rumours.
"But obviously, one of the greatest players to ever play the game. As far as the roster and what we're looking to improve for going for next year. I think continuing to look for players who are good in possession under pressure in the final third."
Henderson added: "Messi on any team in the world is going to change that team. I don't want to speculate and talk about him on our team, but he changes every league, every team that he plays for."
Tags