Neville explains 'clumsy like' of Greenwood dropped charges tweet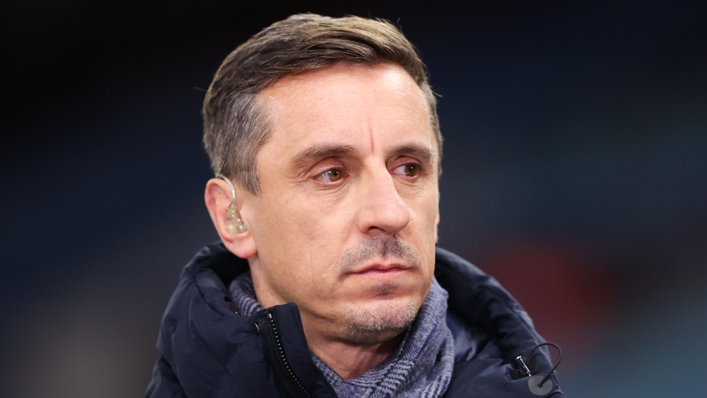 Gary Neville has attempted to explain his 'like' of a post on Twitter that appeared to support criminal charges being dropped against Manchester United striker Mason Greenwood.
The 21-year-old was arrested in January 2022 and was due to stand trial in November on accusations of attempted rape, assault and coercive control.
However, the Crown Prosecution Service confirmed on Thursday that all charges had been dropped due to "a combination of the withdrawal of key witnesses and new material that came to light [meaning] there was no longer a realistic prospect of conviction".
Former United full-back turned pundit Neville came in for criticism on Thursday after liking and retweeting posts from Nazir Afzal, a solicitor and former Chief Crown Prosecutor for North West England, that defended Greenwood, referring to him as "an innocent man" and criticising "trial by media".
Neville took to Twitter to explain his actions, posting: "I liked a tweet relating to the Mason Greenwood news this afternoon from Nazir Afzal (the former director of public prosecutions).
"This like is being misinterpreted. It was a clumsy like as I obviously condemn any violence against women."
United "will conduct its own process" before determining next steps for Greenwood.
Greenwood last featured for United on January 22 last year in a 1-0 victory against West Ham and has been suspended by the club ever since.
Tags