NBA Game of the Week: Tatum and the Celtics seek 10th consecutive win over Irving's Nets
Liam Phillips
Stats Perform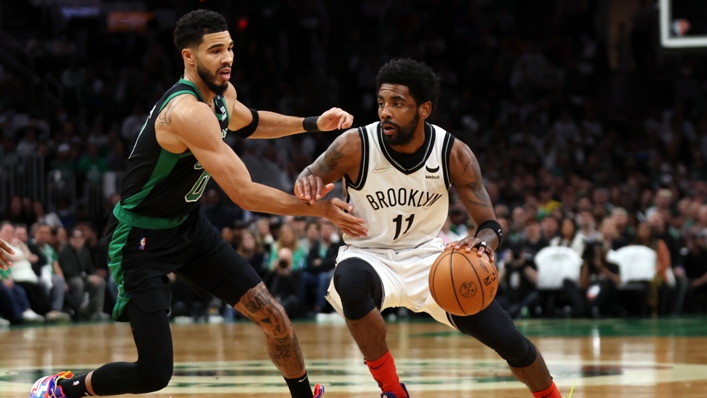 Kyrie Irving and the Brooklyn Nets will travel to Boston on Wednesday to take on the Celtics in a tantalising clash between Eastern Conference contenders.
The Celtics, at 36-15, currently boast the best record in the NBA, while the 31-19 Nets occupy the fourth seed.
Fresh off a trip to the NBA Finals, Boston have looked like genuine contenders since the opening day, building an elite, championship-level statistical profile.
Almost without fail, the eventual champion will show signs of elite play on at least one side of the ball throughout the regular season. Last year's champions, the Golden State Warriors built their identity on a top-two defense; the 2021 Milwaukee Bucks had a top-five offense and top-10 defense; the 2020 Los Angeles Lakers owned the third-best defense.
This year's Celtics side are currently in the rare air of sitting top-five in both offensive and defensive efficiency, guided by two no-brainer All-Stars on the wing with Jayson Tatum and Jaylen Brown, as well as reigning Defensive Player of the Year Marcus Smart and fellow All-Defensive selection Robert Williams III.
While games and series can often be decided by which team has the singular best player, the Celtics have been buoyed by the continued ascent of Tatum, who is now a legitimate MVP candidate.
This season the 24-year-old is averaging career-highs in points (31.1 per game), rebounds (8.7), assists (4.4), field goal makes (10.1) and attempts (21.8), three-point makes (3.3) and attempts (9.3), free throw makes (7.6) and attempts (8.8) – all while shooting his best field goal percentage (46.5) since his rookie season and a career-best 86.9 per cent from the free throw line.
The Celtics' elite record, profile and talent, combined with the fact they will be playing in front of their home fans will have them as favourites on Wednesday – but Irving and the Nets present a frisky opposition.
It is without question that the Nets have entered a mini tailspin since Kevin Durant suffered a knee injury against the Miami Heat on January 8. Brooklyn were 27-13 at the time but have won only four of their 10 games since.
Their ranks as the fifth-best offense and 10th-best defense for the season are both tumbling due to this past stretch, where both units have been the definition of mediocre, ranking 19th on offense and 18th defensively.
That is no fault of former Celtic Irving, who is enjoying a tremendous run of personal form. He has posted seven consecutive outings of at least 26 points and six assists, and after the Nets dropped their first four games of Durant's absence, they responded with four wins from their next six.
Also playing into Brooklyn's favour is the fact they are the NBA's second-best team away from home this season, while their 16-11 mark on the road is only bettered by the Celtics at 17-9.
Unfortunately for the Nets, Boston have also had little trouble at home. They own the fifth-best home record (19-6), and their overtime defeat against the New York Knicks on Thursday was their first loss at TD Garden since December 21.
Boston Celtics – Malcolm Brogdon and Derrick White
Simply put, with Durant out of action, the Nets only have one superstar on the offensive end, and the Celtics have the perfect player to make Irving's life miserable. Or at least they normally would.
Smart became the first guard to win Defensive Player of the Year since 'The Glove' Gary Payton back in the 1995-96 season, and his impact on Irving has been evident in recent matchups – but he will miss this fixture as he recovers from an ankle injury.
Malcolm Brogdon – one of the favourites for Sixth Man of the Year – will take his place as the top defensive guard in the line-up, with help from Derrick White, and together they will aim to pick up where Smart left off.
In his past four games against the Celtics, Irving has only reached 20 points once, finishing with the following shooting performances: four-of-19, eight-of-18, seven-of-21 and nine-of-24.
Brooklyn Nets – Bench shooters
While Irving is the obvious focal point and the engine that will make the Nets run, they will likely need one of their shooters off the bench to get hot.
In their win against the Lakers on Monday, second-year spark plug Cam Thomas and veteran Patty Mills scored 21 points each while combining to shoot eight-of-11 from long range. The previous game, a rivalry victory against the New York Knicks, the trio of Thomas, Edmond Sumner and Yuta Watanabe combined to hit six-of-six three-pointers.
Watanabe in particular could be a game-changer, as he is shooting 49 per cent from deep – the best figure in the league among players averaging at least one attempt per game.
KEY BATTLE – How will Brooklyn slow down the Boston wings?
As previously discussed, the Nets have been a top-10 defense this season, but they will definitely be without the seven-foot Durant, and will likely also be missing six-foot-10 former Defensive Player of the Year runner-up Ben Simmons and six-foot-eight T.J. Warren.
It leaves them woefully undermanned when it comes to defending the All-Star duo of Tatum and Brown, and while Tatum is the exact kind of matchup Brooklyn had in mind when they traded a first-round pick to Utah for Royce O'Neale, they will likely be stuck with Joe Harris on Brown.
Watanabe, at six-foot-eight, and perhaps even six-foot-nine veteran Markieff Morris will get a chance off the bench, but the rest of Brooklyn's perimeter options are simply too small.
Since the beginning of February 2022, the Celtics are undefeated in nine meetings against the Nets, including a clean 4-0 sweep in the first round of last season's playoffs.
Boston have won both head-to-head matchups this campaign by 11 points – one with Durant playing, and one with him out.
Tags