Bayern boss Nagelsmann offers support to Sane and Cancelo
John Skilbeck
Stats Perform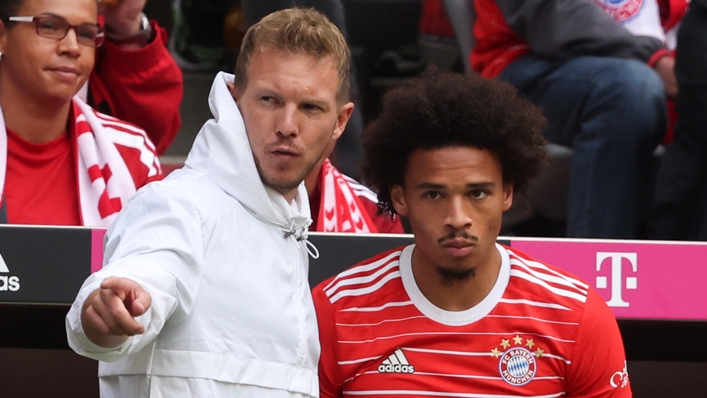 Leroy Sane was hailed by Julian Nagelsmann as "one of the best players in Europe" as the Bayern Munich head coach defended the winger on Friday.
It was reported Sane was slightly late for the start of training on the eve of this weekend's Bundesliga game against Augsburg, and that it could cost him a club fine.
There is a strong chance of Sane starting that match on Saturday, as head coach Julian Nagelsmann gives some a rest after the Champions League win over Paris Saint-Germain.
Germany winger Sane has started just 13 of Bayern's 23 domestic league games this season, with Nagelsmann having such an array of talent in attacking midfield roles he has to mix and match.
Similar applies to Serge Gnabry, who like Sane appeared as a substitute in the 2-0 victory over PSG that carried Bayern through to the quarter-finals as 3-0 aggregate winners.
"Each player has their own character. It is important that you respect, accept and deal with the characteristics of the players," Nagelsmann said. "Leroy and Serge have exceptional skills."
On Sane, Nagelsmann said: "His style polarises. I always try to support him. I'm not one to try to change players' characters. He is one of the best players in Europe. We need him.
"The same applies to Serge. They must be aware of their abilities. Both of them say that they can be decision-makers at important moments."
They, along with Sadio Mane and Mathys Tel, are pushing for selection as Nagelsmann must cope without striker Eric Maxim Choupo-Moting due to injury, while Thomas Muller could take a rest.
Gnabry's late goal against PSG in the second leg capped off a successful tie for Bayern, as Lionel Messi and Kylian Mbappe were kept off the scoresheet over 180 minutes.
Bayern lost 1-0 to Augsburg in September, an early season jolt for the reigning champions who find themselves in a battle for the title with Borussia Dortmund, both teams having 49 points from 23 games.
Joao Cancelo was also only used as a substitute against PSG, with the on-loan Manchester City full-back having yet to ink his place in the Bayern starting XI.
Nagelsmann is open about the fact Cancelo makes his disappointment known when not selected.
"When he plays everything is fine, and when he doesn't play he's not happy. That's normal too," Nagelsmann said. "He's always had a good reaction.
"One training session wasn't that good, but afterwards we had a very good conversation. The conversation was very open and did him a lot of good.
"He's happy again on the pitch. His game is characterised by a certain joy and lightness, which he now has again. So I assume that I will reward him for the good impressions I had of him in training. I'm sure that what he did well in training, he will also do well in the game."
Choupo-Moting has been performing at a high level since taking on the task of leading Bayern's attack, filling the Robert Lewandowski role after his departure for Barcelona.
He has 19 goals this season, but a back problem, which Nagelsmann said was also affecting his leg muscles, keeps him out of contention to face Augsburg.
The coach reported Muller, Matthijs de Ligt, Kingsley Coman and Leon Goretzka have shown signs of fatigue.
"We don't yet know who can start," Nagelsmann said. "We will decide tomorrow how fit everyone is. We'll have to make a few changes because not everyone is at 100 per cent."
Tags