Yankees star Carpenter hopeful of September return after foot fracture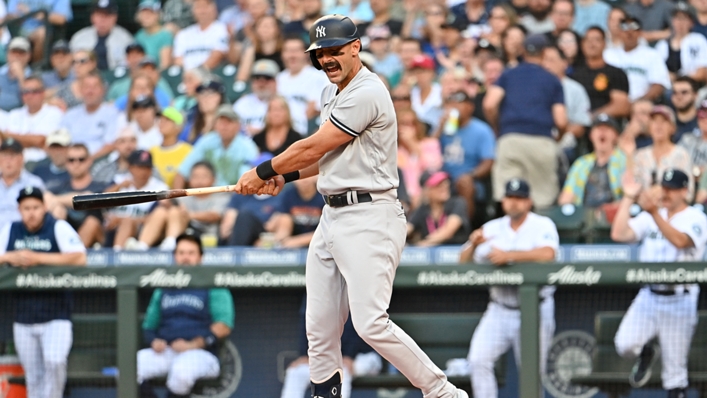 Matt Carpenter is bullish he still has a part to play for the New York Yankees this season, stating that "my mindset is that I'll be back" after fracturing his left foot.
The third baseman fouled off a slider from Seattle Mariners starter Logan Gilbert during the first inning on Monday, and is facing an indefinite spell on the sidelines.
Despite the loss of the 36-year-old, arguably in the best form of his league career for over half a decade, the Yankees still went on to a 9-4 victory to snap a season-worst five-game losing streak.
That solidifies their position atop AL East, and keeps them on track for a rosy postseason spot, though they will now almost certainly have to secure their berth without Carpenter.
But the ex-Cardinals man and three-time All-Star remains optimistic he will get back on the diamond before the close of the season, insisting he is not limiting himself on his return timeframe until he sees a specialist.
"I don't want to say a number because I just don't know, but I'm holding out hope that it'll be a situation where I could come back in the middle of September and can contribute towards a stretch run," Carpenter said.
"So we'll see. I mean, that's my mindset is that I'll be back."
Carpenter finished the at-bat after initially hobbling around, and struck out swinging on the next pitch, and admits it was likely a good thing he failed to make the connection, lest he worsen his injury.
"When I went to swing on the next pitch, as soon as I started to plant and rotate on that back foot, my lower body like gave out and I wasn't able to," he added.
"Thankfully, probably the best thing that happened was to swing and miss – because if I hit it and had to run, I might have made it worse. But I knew it wasn't good."
Carpenter becomes the latest major injury concern for the Yankees, who lost Giancarlo Stanton, Luis Severino, Michael King and Miguel Castro last month.
New York continue against the Mariners this week at T-Mobile Park, before heading back east on Friday to face the Boston Red Sox.