Santos not worried about losing job despite Portugal defeat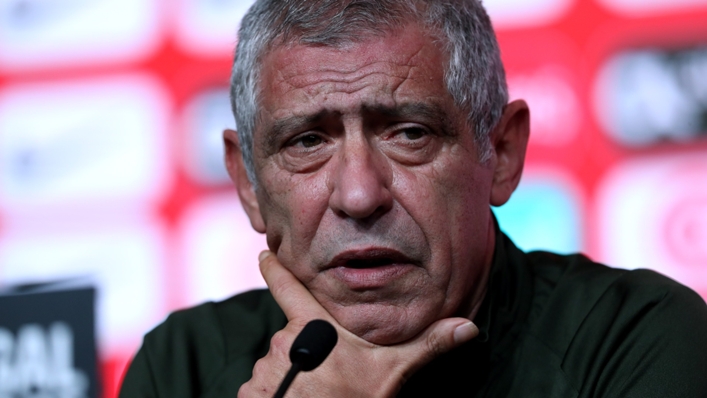 Fernando Santos had no concerns around his future as Portugal coach after his team lost 1-0 to Spain and missed out on a place at the Nations League Finals.
Spain's dramatic victory came courtesy of Alvaro Morata's goal in the 88th minute, sending La Roja to next year's tournament instead of Portugal.
Having only needed a draw to advance, the late winner was of great frustration to Santos, but he would not entertain talk around his status as coach.
Informed of criticism and asked whether poor results would affect his position, Santos shot back: "Well, that's fine. But what should I answer? It doesn't pinch [impact] me at all.
"Do you want to be more direct or is that your question?
"My contract goes until 2024. I can't be more direct than that."
On the match, Santos added: "We cannot concede a goal in the last minutes. If we have to defend, we should give everything for it.
"Anyway, the players worked hard, and we still had a good opportunity, but we didn't make the most of it."
Spain had five shots on target to Portugal's four, but all of those came after the 71st minute, with Santos' side paying for their earlier profligacy.
"If I would like to simplify, I would say that we had several opportunities and Spain only had a few," the coach said. "So it would be a matter of efficiency: we didn't score.
"We must look at the whole game. We are all very sad. We were convinced that we would reach the Nations League Finals. We are not there, so we are obviously sad.
"We must move on and identify what needs to be improved. We must address it in order to be on top form at the World Cup."
Portugal were not helped by Cristiano Ronaldo's failure to contribute in attack.
He has now not scored in his past three appearances for Portugal, and there are questions around his ability to carry the national team without consistent game time at Manchester United.
"I am only interested in the team's performance," Santos said. "Ronaldo had three or four chances, two of them very good.
"He normally scores [in these situations], but he didn't. It's football. We normally expect him to score, but he didn't."
Tags