Mosley represents Magic at NBA draft lottery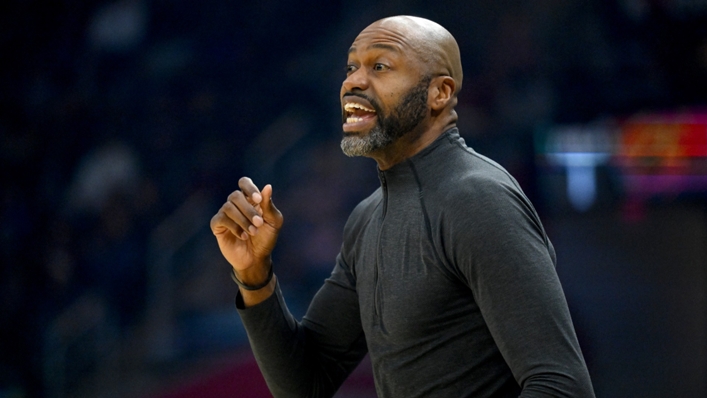 The Orlando Magic's late switch to see Jamahl Mosley represent the team at the NBA draft lottery paid off with the number one overall pick.
Magic president of basketball operations Jeff Weltman joked Mosley was "the coach of the year" on Tuesday after he appeared on stage for the annual event and brought back the top prize.
"I haven't been very good at this," explained Weltman, who had been in line to take part.
"It's funny. Coach was feeling lucky and we let him roll the dice, and tonight, he's the coach of the year."
This is the third time the Magic have had the first selection in the NBA Draft and the first since Dwight Howard was taken in 2004.
Tuesday marked 30 years to the day since Orlando won the 1992 lottery that allowed them to select Shaquille O'Neal.
The Magic had two of the first eight picks last year, recruiting Jalen Suggs at five and Franz Wagner at eight, meaning they have an opportunity to build now with a young core.
"[For] the fans, the organisation, it's so exciting," Mosley told ESPN. "It's so much to look forward to with this organisation and this group and this fan base. It's going to be special."
Jabari Smith, Chet Holmgren and Paolo Banchero are considered among the leading prospects, although the Magic have also not ruled out trading their pick – in 1992, they took Chris Webber and then immediately traded him – even if that is not Weltman's focus at this stage.
"Obviously with that will come a lot of conversations, and it'll be interesting to see some of the calls that come up," Weltman said. "But mostly it means that we get to familiarise ourselves now with elite prospects, and we get to add one to our team.
"I do feel that as they start to make the rounds, teams will start to fall in love with guys, which is what generally happens.
"And generally, leverage will kind of unfold from there, but I know we'll have a lot of interesting discussions with teams. Obviously we don't go into this thing looking to trade our pick.
"We look to add a really talented, young, high-character guy to our talent base and our roster. I have no expectations on it. Obviously, we'll continue to do our work.
"This really doesn't change much of the way that we'll approach the draft. We're just really excited to be able to fall in love with somebody and pick that player."