Monahan dismisses prospect of PGA Tour reconciliation with LIV Golf
Joshua Challies
Stats Perform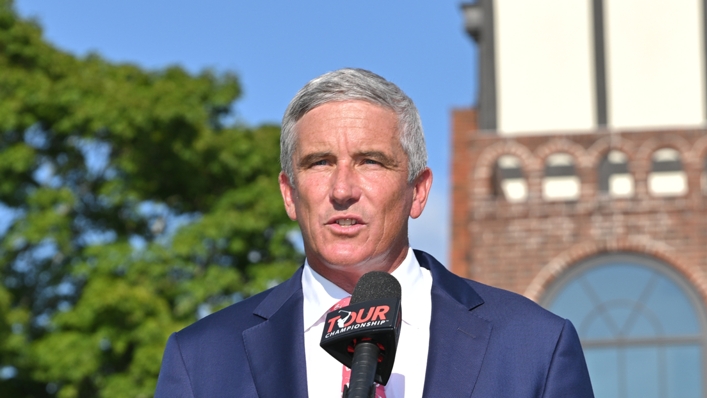 Jay Monahan has ruled out the prospect of reconciliation between the PGA Tour and LIV Golf Invitational Series rebels.
The two competitions are locked in legal proceedings, with LIV Golf players submitting an antitrust lawsuit against the PGA Tour after they were suspended following their moves.
LIV Golf argues that players have been treated unfairly and the decision suppresses competition, with the relationship between the two competitions growing increasingly sour.
That mood is unlikely to change any time soon, with Monahan saying ahead of the Presidents Cup in North Carolina that the prospect of a truce is "off the table".
"Listen, I think I've been pretty clear on this: I don't see this happening," he told the Golf Channel.
"When you look at where we are, and you think about words and actions, we're currently in a lawsuit, so coming together and having conversations, to me, that card is off the table, and it has been for a long period of time.
"When you look at the PGA Tour, and you look at where we are today, and you look at what it is that we try and accomplish every single day – what's our focus? To put the best competitive platform forward for the best players in the world to achieve at the highest level, to win the championships that have history, that have tradition, that create legacy.
"That is what we're going to continue to do, and we're going to continue to get better at it, we're going to continue to get stronger at it.
"You've heard me say before that we're going to focus on things that we control; we have more assets at our disposal, stronger partnerships and we have the best players in the world telling us that not only are they going to commit to play more, but they're really looking at the organisation to accomplish that.
"It's all about where we are and where we're going, and again, I couldn't be more excited about the possibilities here."