MLB playoffs 2021: Taylor hits three home runs as Dodgers stay alive in NLCS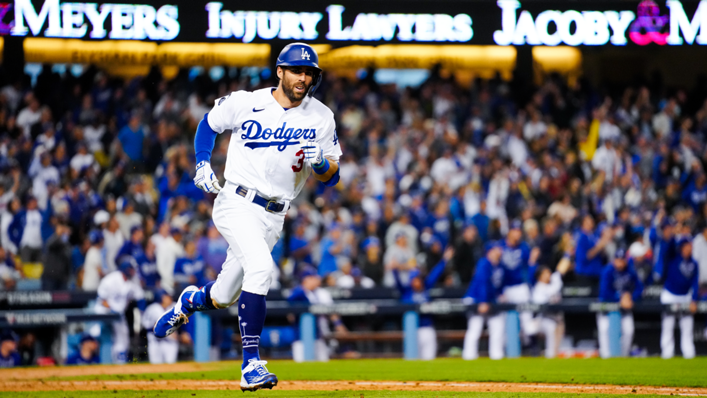 Chris Taylor made history by homering three times to keep the Los Angeles Dodgers alive in the National League Championship Series (NLCS) with an 11-2 win over the Atlanta Braves on Thursday.
Facing elimination at 3-1 down in the NLCS, the World Series champions trailed 2-0 early before 11 unanswered runs headlined by Taylor's trio of home runs, going four-from-five for the game with six RBIs.
Taylor joined Enrique Hernandez as the only Dodgers player to ever have a three-homer postseason game. The 31-year-old moves to an equal-postseason high 12 RBIs, along with four home runs and 12 hits. All four of Taylor's home runs have come in games when the Dodgers were facing elimination.
A.J. Pollock also finished the game with two home runs, including an eighth-inning three-run blast, going three-from-five.
The Dodgers become the third team in postseason history to have two players with a multi-home run game in the same postseason game. They also set a new franchise record for hits in a postseason game with 17, tying their postseason home-run record of five.
The Braves threatened to run away with the series after Freddie Freeman's first-inning two-run blast with Dodgers starting pitcher Joe Kelly withdrawn soon after.
But LA responded with home runs from Pollock and Taylor in the third inning from Max Fried to claim the lead.
Taylor drove in Pollock in the fourth inning, before he extended the Dodgers lead with a two-run home run in the sixth inning, adding a third homer in the seventh inning to open up a 7-2 lead.
Pollock put the icing on the cake in the eighth inning, before Kenley Jansen closed it out.
The Dodgers had trailed the Braves 3-1 in last season's NLCS, before triumphing in the next three games and ultimately winning the World Series.
The Houston Astros can secure their spot in the World Series for the third time in five years when they host the Boston Red Sox in the American League Championship Series leading 3-2.