MLB playoffs 2021: Rosario leads Braves to brink of World Series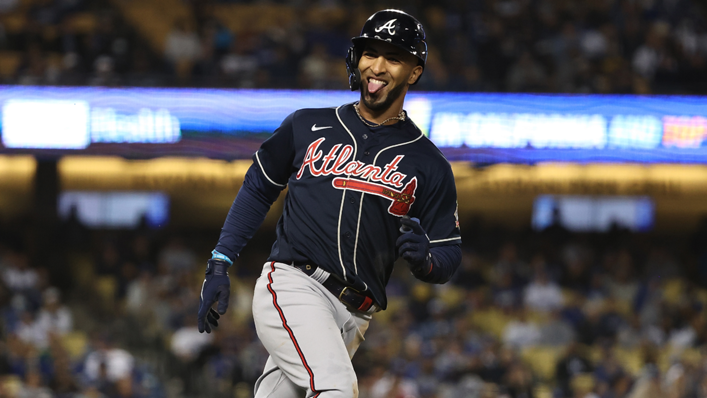 Eddie Rosario starred as the Atlanta Braves moved within one win of the World Series thanks to a 9-2 victory over defending champions the Los Angeles Dodgers on Wednesday.
Rosario delivered four hits, four RBIs and three runs in Game 4 of the National League Championship Series (NLCS), including a ninth-inning three-run homer to ice the victory, giving the Braves a commanding 3-1 series lead in the MLB playoffs.
Atlanta raced to a 4-0 lead after three innings via solo home runs from Rosario, Adam Duvall and Freddie Freeman, before Joc Pederson drove in Rosario.
A.J. Pollock hit a two-run single in the fifth inning to offer hope of another Dodgers fightback following Tuesday's 6-5 win, but the Braves pulled away again led by Rosario – who became the first-ever player with two four-hit NLCS games. The 30-year-old is hitting at .600 with nine-for-15 in the NLCS.
Rosario needed a double from his ninth inning at-bat to complete a cycle and become the second player in MLB history to achieve the feat, but instead settled for a game-sealing three-run blast.
According to Stats Perform, Rosario is the first player in major league playoff history to have two four-hit games in a three-game span in a single postseason.
Teams with a 3-1 lead in a best-of-seven series have won 75 of 89 times. To make matters worse for the Dodgers – who are on the brink of elimination and being dethroned, Justin Turner limped out of the game with an apparent hamstring injury.
The Houston Astros shut down the Boston Red Sox behind Framber Valdez as they delivered a five-run sixth-inning rally to cruise to a 9-1 triumph and a 3-2 lead in the American League Championship Series (ALCS).
Valdez pitched eight innings, allowing only three hits and one earned run with five strikeouts, with the Red Sox only managing three hits for the game at Fenway Park in Boston.
Yordan Alvarez, who had a second-inning homer and finished with three hits, drove in two during the fifth inning, along with Jose Siri with a fly ball to open a 6-0 lead.
The Astros had won 9-2 in Game 4, meaning the Red Sox have allowed nine or more runs and been held to five or fewer hits in back-to-back wins for the first time ever at Fenway Park.
Houston, meanwhile, are the first team in MLB postseason history to be trailing in a series and then win back-to-back games on the road by seven-plus runs, according to Stats Perform.
The Braves can secure their first World Series appearance since 1999 when they face the Dodgers in Game 5 of the NLCS on Thursday.