MLB playoffs 2021: Roberts insists Taylor is in an 'elite class'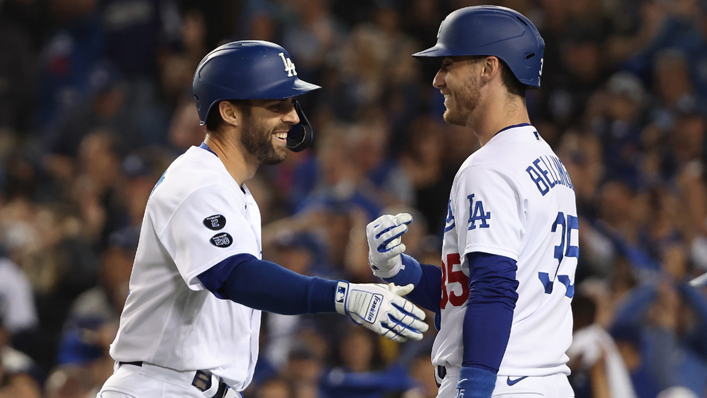 Los Angeles Dodgers manager Dave Roberts labelled Chris Taylor "remarkable" and in an "elite class" after his three home-run display in their National League Championship Series (NLCS) Game 5 win over the Atlanta Braves.
Taylor joined Enrique Hernandez as the only Dodgers player ever to have a three-homer postseason game as they won 11-2 over the Braves to avoid elimination.
The victory sees the World Series champions pull the NLCS back to 3-2 but Taylor's hitting was all the talk as he became only the fifth player with a three-or-more homer and four-or-more hit postseason game.
"He's in an elite class of very few. When you're talking about Gil Hodges and Duke Snider who didn't do it, it's pretty remarkable," Roberts said during a news conference after the win.
"He's one of the best I've seen at just being in the moment. When his career is over, he can look back and appreciate that.
"For me being a Chris Taylor fan and seeing he's a part of history now, it's pretty remarkable. He just does things the right way."
Taylor received a curtain call from the fans at Dodgers Stadium, as they turned around an early 2-0 deficit, piling on 11 unanswered runs.
A.J. Pollock also hit two home runs but was overshadowed by Taylor who finished the game with four hits from five at-bats and six RBIs.
"That was my first one [curtain call]," Taylor said. "Anytime you do something cool, when you do it at Dodgers Stadium it makes it that much sweeter.
"This is a special place. These fans are awesome. For that to happen for the first time on this stage in front of this crowd was a special moment.
"Mechanically I'm in a good place. Once you get a couple of hits and the confidence is there, that's when everything comes together."
The Dodgers become the third team in postseason history to have two players with a multi-home run game in the same postseason encounter. They also set a new franchise record for hits in a postseason game with 17, tying their postseason home-run record of five.
In bad news for the Dodgers, Roberts revealed starting pitcher Joe Kelly would likely not return this season after sustaining a biceps injury in the first inning.
"It's a bicep strain and we're going to continue to evaluate but the way it reads right now, that'll be it for the rest of the season for him," Roberts said.