MLB playoffs 2021: Roberts confirms Turner's postseason is over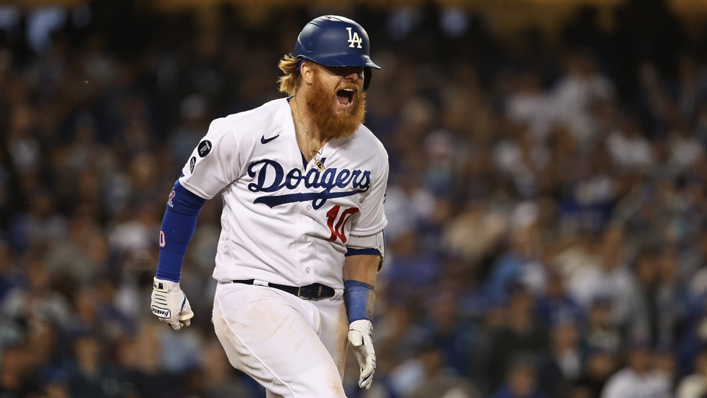 Los Angeles Dodgers manager Dave Roberts has revealed his misfiring offense has been dealt another blow in the National League Championship Series (NLCS) with Justin Turner ruled out for the postseason.
The Dodgers were beaten 9-2 by the Atlanta Braves, who took a 3-1 lead in the NLCS, meaning the World Series champions will need to three elimination games to progress.
LA only managed four hits for the game, with their only runs coming from A.J. Pollock's fifth inning two-run single. The Dodgers also only managed four hits in the 5-4 loss to the Braves in Game 2.
Turner, who hit at .278 with 27 home runs, 87 RBIs and 148 hits across the regular season, also limped out of Game 4 with a hamstring injury when running to first base in the seventh inning in a further blow.
"Early indications is it's a grade two [hamstring]. I think that'll be it for him," Roberts said during the post-game news conference. "Obviously he's very disappointed.
"We're talking through [his replacement] right now. It'll be a position player but not sure who."
Roberts had no answers when asked to explain his side's inconsistent offensive performance throughout the series, needing Cody Bellinger's miraculous eighth-inning three-run blast to rescue a 6-5 victory in Game 3.
"That's a very fair question," Roberts said when asked about the inconsistency. "I know it's not from a lack of work or preparation, so the last part is execution.
"I just don't have an answer. Every time I write the lineup out, I feel very good, but it just hasn't been as consistent as anyone expected… We've got to change that. I wish I had an answer."
Thursday's Game 5 will represent the fourth game this postseason that the Dodgers have faced elimination.
The Dodgers also trailed the Braves 3-1 in last year's NLCS, before storming back to win the next three games and the World Series, offering Roberts hope.
"You never want to have your back against the wall, that's not how you draw it up," he said. "We have a very resilient team, a very tough team.
"It's not going to get much tougher than facing Max Fried in an elimination game but we've done it before. We've got to win tomorrow and I believe we're equipped to win tomorrow's ball game."