MLB playoffs 2021: Roberts hails Bellinger's homer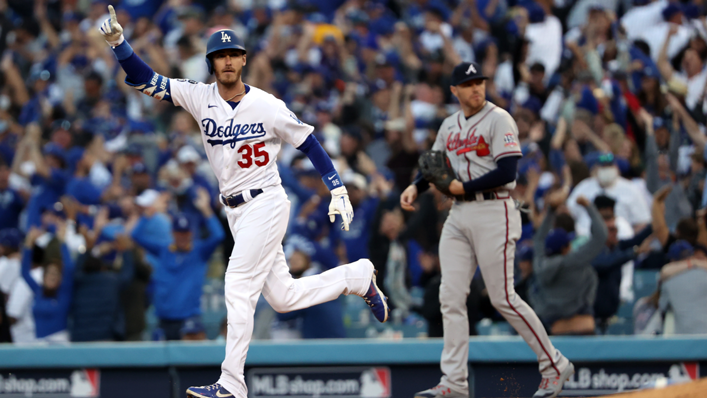 Los Angeles Dodgers manager Dave Roberts cannot remember a more important hit than Cody Bellinger's game-tying three-run homer in the defending World Series champions' come-from-behind 6-5 win over the Atlanta Braves.
The Dodgers trailed 5-2 in the eighth inning in Game of the National League Championship Series (NLCS), facing a 3-0 series deficit before 2019 NL MVP Bellinger's three-run shot tied Tuesday's MLB contest.
Mookie Betts hit a go-ahead double, driving Chris Taylor home, as the Dodgers completed a four-run eighth-inning rally, before Kenley Jansen closed it out in the ninth inning.
The Dodgers had never won a postseason game in their history when trailing by three or more runs in the eighth inning.
Bellinger's homer continued his remarkable postseason, hitting at .292 with seven hits and six RBIs after the two-time All Star endured a challenging regular season for the Dodgers, hitting at .165.
"Pure elation, joy," Roberts said about Bellinger's homer during his post-game news conference.
"It's hard to imagine a bigger hit that I can remember, given what was at stake. I couldn't be happier for him. What a win. I'm kinda exhausted right now. Very happy for Cody."
Bellinger's regular-season return for the Dodgers had been modest, with 10 home runs, 52 hits and 36 RBIs from 95 games, which Roberts described as "rock bottom".
That was in contrast during his MVP-winning 2019 season he homered 47 times, with 170 hits and 115 RBIs, hitting at .305.
"I think this is going to make him much better. It's tested his character and he's going to be a better baseball player through these struggles," Roberts said.
"When you hit rock bottom, there's a lot of opportunity for openness and change. To his credit, he lowered his arms, understood he needed to hit the ball more square and flat and get the loop out of his swing.
"You see the path of that at-bat tonight. All the credit goes to him."
Bellinger, who hit at .212 with four home runs, 14 hits and 13 RBIs during the Dodgers' World Series-winning 2020 postseason, offered an insight into his mindset, labelling the playoffs as a "clean slate".
"In a way it's a whole different season," Bellinger, who celebrated his fourth career game-tying or go-ahead hit in the eighth inning or later of a playoff game – tied for fifth-most in postseason nhistory, told reporters. "Luckily for me I got a clean slate going into the postseason.
"I was feeling good towards the end of the regular season. I just tried to continue that and help this team win."