MLB playoffs 2021: Cora insists Red Sox not suddenly a bad offensive team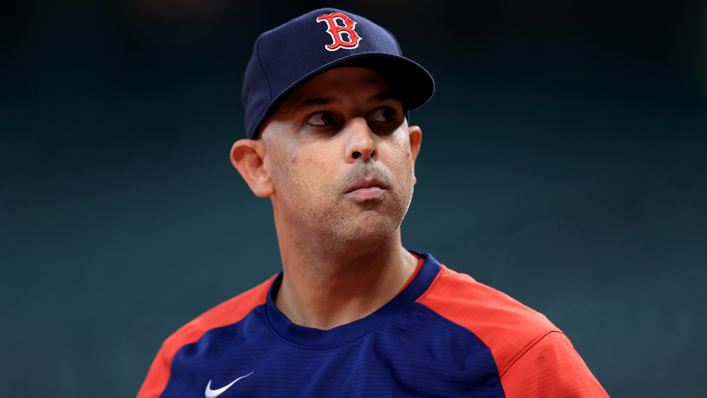 Boston Red Sox manager Alex Cora says his side are not suddenly a bad offensive team and brushed off talk of a slump after going down 3-2 in the American League Championship Series (ALCS) to the Houston Astros.
The Astros triumphed 9-1 on Wednesday to move within one game of the World Series, backing up from Tuesday's 9-2 win.
The Red Sox only managed three hits for the game on Wednesday, with Astros pitcher Framber Valdez starring across eight innings.
The defeats mean the Red Sox have allowed nine or more runs and been held to five or fewer hits in back-to-back games for the first time ever at Fenway Park.
"I don't see it as a slump, it's two games," Cora said during his post-game news conference.
"We've been really good defensively the whole month. Tonight that kid [Valdez] was amazing. We'll keep working and talking. We'll be ready as a group."
Game 6 will take place in Houston on Friday, offering the Red Sox a chance to recoup and reconsider their plans after the Astros flipped the ALCS.
"We know we can hit," Cora added. "Two bad games doesn't mean that all of a sudden we're not a good offensive team.
"It's a matter of a re-group, make some adjustments and attack from the first pitch on.
"We've got to win two games to go to the World Series, that's the bottom line."
Cora insisted he would not make any personnel changes to his Red Sox line-up for Game 6, backing in Hunter Renfroe who has had a lean ALCS, with only one hit.
Renfroe has not homered all postseason, after blasting 31 with 135 hits and 96 RBIs during the regular season, hitting at .259.
"He's a guy throughout the season who has done an amazing job," Cora said. "He's played great defense for us and he's been good offensively. We'll keep rolling them out there."
Cora was full of praise for Valdez, who had five strikeouts, describing his sinker as "unreal" and claiming he was the difference.
"Their guy was amazing," he said. "He was throwing harder than usual, the ball was moving, we didn't hit the ball hard at all.
"Credit to him. His sinker was unreal tonight. You tip your hat to him and you move forward."