MLB playoffs 2021: Astros reach World Series at Red Sox's expense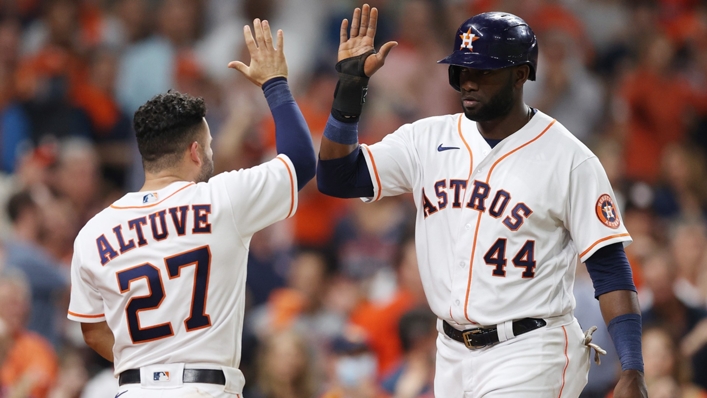 Yordan Alvarez was the hero as the Houston Astros topped the Boston Red Sox 5-0 to advance to the MLB World Series.
Alvarez drove in the opening run before scoring to double the lead in the sixth inning to fuel the Astros in Game 6 of the American League Championship Series (ALCS) on Friday.
The Astros sealed the ALCS pennant 4-2 and their first World Series berth since 2019 – third in five years – thanks to Kyler Tucker's three-run homer in the eighth inning.
Houston will face either the Atlanta Braves or defending champions the Los Angeles Dodgers for their second MLB crown and first since 2017.
ALCS MVP Alvarez – the fifth Astros player with a four-hit game in a potential postseason clincher – set the tone in Houston, where he doubled to deep centre, allowing Alex Bregman to score in the first inning.
The tense battle continued before Tucker's grounded into double play at first as Alvarez scored to make it 2-0.
With the Red Sox trying to avoid elimination, the Astros put the result beyond doubt behind Tucker's 357-foot shot in the bottom of the eighth, with Alvarez and Carlos Correa also scoring.
Alvarez (.522) ended the series with the highest batting average in the ALCS, eclipsing Kevin Youkilis (.500 in 2007).
Luis Garcia starred on the mound, allowing just one hit in 5.2 innings while striking out seven batters.
Houston's Dusty Baker is heading back to the World Series for the first time in 19 years – the only manager to go longer between consecutive World Series appearances was Bucky Harris (1925 with the Senators then 1947 with the Yankees).
Baker will be aged 72 years and 133 days old for Game 1 of the World Series, the second oldest manager to reach the Fall Classic behind only Jack McKeon (73 years and 329 days in 2003).
The Braves can secure a date with the Astros when they host the Dodgers in Game 6 of the National League Championship Series (NLCS) on Saturday. Atlanta lead 3-2.