Middleton revels in Bucks finding different ways to win
Peter Hanson
Stats Perform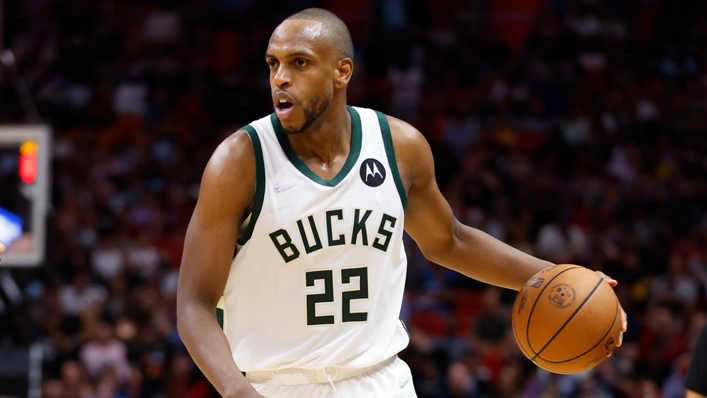 Khris Middleton said the Milwaukee Bucks are having to learn how to win in different ways after impressing in the absence of Giannis Antetokounmpo against the Sacramento Kings.
Having needed to rely on an impressive defensive showing against the Chicago Bulls, it was the turn of the offense to turn it on in a 133-127 triumph against the Kings.
Middleton had 34 points, while Jrue Holiday put up 26 as the Bucks chalked up another tick in the win column despite Antetokounmpo missing out with soreness in his right knee.
"We just need to be able to win different type of ballgames," Middleton said after the defending champions moved to 29-19 on the season.
''Every game is not going to be perfect, every game is not going to be pretty. To get defensive stops, to get 50-50 balls like we did [against the Bulls], it helps.
"When you hit shots like we did tonight, it also helps."
Middleton made a key three-pointer with one minute and nine seconds remaining on the clock, with the Kings having fought back to within three points.
Holiday felt Middleton's effort was key in helping the Bucks get over the line.
"I feel like this is what he has been doing," Holiday said. ''He makes timely threes. He makes big shots, especially in that moment when they had momentum. He just came down and laced them, took advantage."
Donte DiVincenzo (20 points), George Hill (17) and Pat Connaughton (15) all made valuable contributions for Milwaukee to earn praise from Middleton.
"I think they were great," he added.
"Pat got hot for us. George did a great job at the point guard position, just controlling the team. Defensively he was all over the place, coming down for rebounds and helping box out.
"Pat has played so many different positions. It's weird to see him playing the center. He's a selfless guy doing anything that can help."
Tags