Middleham Park keen for another crack at Little Big Bear with Shouldvebeenaring
Molly Hunter
Press Association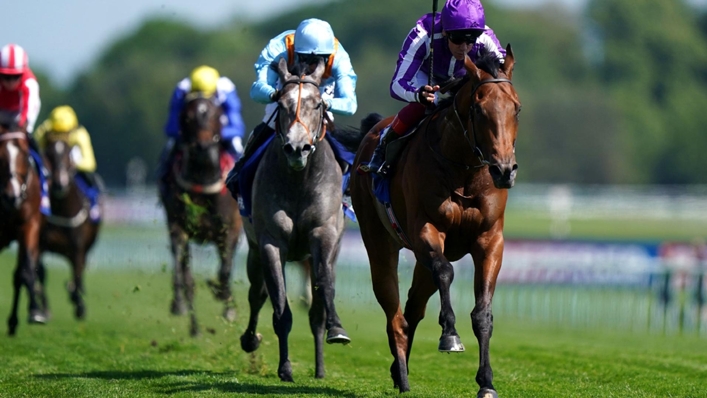 Middleham Park Racing are not shying away from a sprint rematch at Royal Ascot between Shouldvebeenaring and Little Big Bear.
The two horses contested the Sandy Lane at Haydock when last seen, with Little Big Bear prevailing as the even-money favourite with Shouldvebeenaring giving him a run for his money a length and a quarter back in second.
Having started at 11-1 for Richard Hannon and Sean Levey, the runner-up ran a mighty race and continued what is proving to be an incredibly fruitful season for him.
Though his Haydock performance was something of a pleasant surprise for the grey's owners, Hannon was less shocked as the colt had impressed him in his work beforehand.
"It did catch us a little bit by surprise but we felt he warranted his place in the race, he deserved his shot at the big time," said Tim Palin of Middleham Park.
"He'd been crashing around in Listed races and doing that particularly well and we just thought we'd pop his head above the parapet and see where he ended up.
"He did it in spades, didn't he? He stepped up to the plate in spades.
"I was pleasantly surprised, to get so close to the champion two-year-old is an immense achievement for a £40,000 yearling that we bought from Goffs UK.
"Richard had said to me on the Tuesday after his final piece of work, 'Tim, this horse is better than ever. He's never done what he's just done there in front of me'.
"It probably wasn't as much as a surprise to Richard that he was able to step up because he's seen it in front of his very eyes."
Shouldvebeenaring is now pencilled in for the Commonwealth Cup, a Group One sprint where he will likely cross paths with Aidan O'Brien's Little Big Bear again.
Palin said: "It's great to be mixing it in these lofty places, where do we go now? There's some talk about the Jersey, but Sean (Levey) did say that he wouldn't mind another go at the winner when he got off.
"That's what we may well do, if he's (Little Big Bear) the 13-8 favourite and we're just a couple of lengths off him then he would probably deserve a place in the Commonwealth Cup.
"He'd have to mix it with even more blue-blooded types and time will tell but he does deserve it, a stiff six furlongs is probably Shouldvebeenaring playing at home.
"With a nice patient ride we'll see where we end up and if we could nick a place, that'd be great. If he did happen to turn it around with the winner then it's a stallion-making opportunity."
A £40,000 purchase, Shouldvebeenaring has earned over £250,000 in prize money already and is quickly becoming a popular horse as his ability is matched by his consistency.
"He wears his heart on his sleeve, he has the heart of a lion and puts so much effort into all of his races, even the days he's been beaten," said Palin.
"He still has that enthusiasm and he's still improving, he's not the biggest, he's a bit of a pony.
"His diminutive stature is certainly belied by his heart and tenacity, he'd run through a brick wall for you, he's a superstar."