Mets pitcher Carrasco out for at least three weeks with oblique injury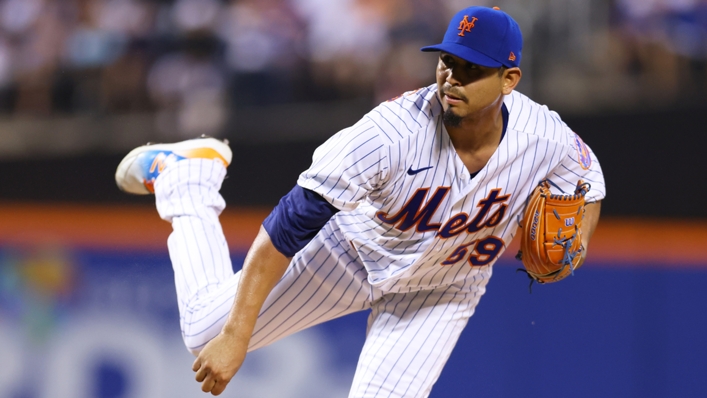 The New York Mets will have to make do without a key piece of their rotation after right-hander Carlos Carrasco was diagnosed with a strained left oblique on Tuesday.
The 35-year-old Carrasco suffered the injury in Monday's 13-1 loss to the Atlanta Braves. He returned following a 55-minute rain delay in the second inning and got the last out but winced on his final pitch and was pulled after allowing three runs in two innings.
"It just got tight a little bit and I don't want to push more," Carrasco told reporters after the game.
An MRI Tuesday revealed a low-grade strain on the left side and the team said a typical timeline for this type of injury is three to four weeks.
Carrasco has been a big part of the Mets' success this season, going 13-5 with a 3.92 ERA in 23 starts. He was 5-0 with a 1.69 ERA over his previous seven starts and his 126 1/3 innings pitched rank second on the team to Chris Bassitt, with both Max Scherzer and Jacob deGrom limited by injuries.
David Peterson would seem a possible replacement for Carrasco in the rotation. Peterson is 6-2 with a 3.30 ERA in 18 appearances, including 14 starts, though he was optioned to Triple-A earlier this month.
The first-place Mets entered Tuesday with a four-and-a-half game lead over the Atlanta Braves in the NL East as they try to secure their first postseason berth since 2016.