Galtier claims Messi PSG future still uncertain but will be about 'desire'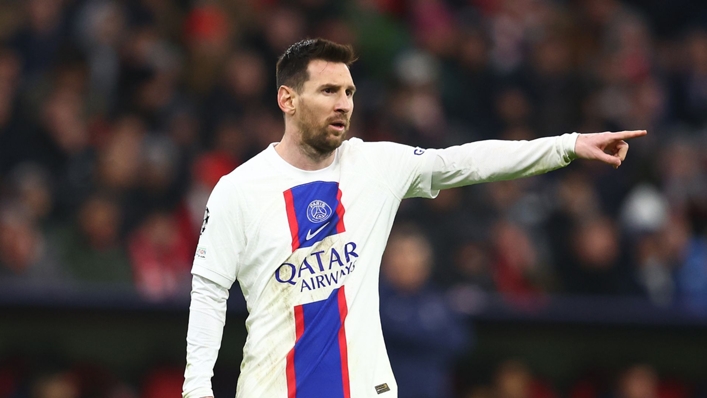 Christophe Galtier has said it is still too early to know whether Lionel Messi will be at Paris Saint-Germain next season, but praised the World Cup winner for his attitude.
Messi's deal at the Parc des Princes expires at the end of the season, with rumours swirling about a move back to Barcelona or to Major League Soccer.
The Argentina international has 18 goals and 17 assists in 31 games for PSG this season, but came in for criticism for his performances in their Champions League last-16 elimination to Bayern Munich.
"I know that Leo Messi and the board have been in talks," Galtier said at a press conference on Friday. "At the moment I am staying focused on the team and the upcoming matches.
"As for whether Leo Messi will be here next season or not, I have said that it is about desire. I know people are discussing it but Leo Messi is happy in the dressing room.
"He has 18 goals and 17 assists this season. I know there was some criticism about the [Champions League] game against Bayern Munich, but he wasn't the only one.
"He is able to be decisive, and he has often done so this season. He is among the best assist providers and he scores goals. Given his conduct in the dressing room every day, given his age, he still trains every day and is always happy to play and get his team-mates playing.
"As for his future, it is too early to know what will happen."
Galtier was also asked about whether Kylian Mbappe would be in consideration to be PSG's captain in future, with France head coach Didier Deschamps revealing on Thursday that he was under consideration to lead his national team following the retirement of Hugo Lloris.
"I don't know about that," Galtier said. "Kylian Mbappe has worn the armband in recent weeks [in the absence of the injured Marquinhos]. It is his sixth season here. He is one of our vice-captains. He wears the armband naturally but other players can do so too."
PSG host Rennes on Sunday with a 10-point lead at the top of Ligue 1 and 11 games remaining, and Galtier believes his team is focused on doing their job to ensure they get over the line.
"It is not about motivation, it is about objectives," he said. "We are not champions yet. We have a 10-point lead, that's true, but the next four games plus internationals, we have Rennes on Sunday, Nice and Lens, they are teams fighting to get into Europe.
"Our squad is struggling at the moment in terms of injuries. If we think the job is done, that would be a big mistake.
"Do I need to find extra motivation for my players? No. We know we haven't won the league yet and things can change quickly, so we should get wins under our belt... the only motivation we have is to become champions for an 11th time."
Tags