Herrera believes Messi has suffered for PSG's Champions League 'obsession'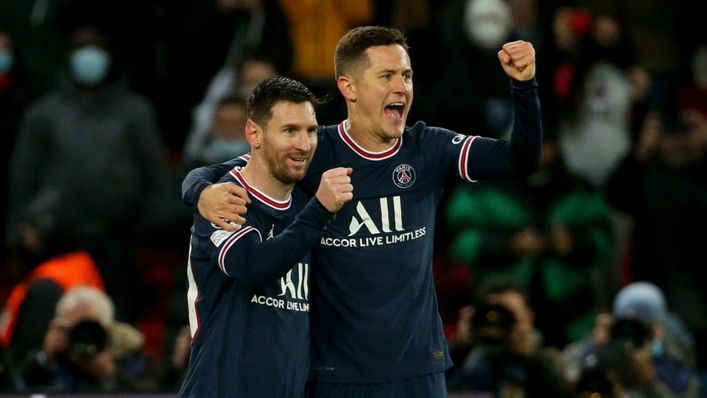 Lionel Messi has paid for Paris Saint-Germain's "obsession" with winning the Champions League, suggests Ander Herrera.
Messi moved to Parc des Princes in 2021 from Barcelona, and helped PSG to a Ligue 1 success in his first season.
PSG are on the brink of retaining their crown, though Messi's future at the club is far from certain.
Messi has been unable to drag PSG closer to their ultimate goal – winning the Champions League. Earlier in May, Messi was targeted by sections of the club's fanbase after he was suspended for taking an unauthorised trip to Saudi Arabia.
Herrera, who played with Messi last season, sees the PSG's dogmatic pursuit of European glory as the main issue.
"I was admiring Leo before [I knew] him, and after knowing him, I admire him even more as footballer and as a person," he told Stats Perform.
"I understand that Paris is a place that [does] not have much patience. There is an obsession to win the Champions League that doesn't help.
"I think that [they are] the only team in the world that, if [they] do not win the Champions League, it is a failure. All the rest can [have] good seasons without winning [it].
"In Paris, this patience and calm does not exist. You perceive that there is an obsession to win the Champions League, and at the end, who pays for it?
"[It is] the best ones [in] the team. They are the ones that receive the [criticism]."
Herrera also weighed in on speculation over the future of his former Manchester United team-mate David De Gea, amid questions over the goalkeeper's place at Old Trafford.
De Gea has come in for criticism after several key errors this term, but yet also claimed the Golden Glove once again for his Premier League performances.
The Spaniard's contract runs out at the end of the season, but includes an option for a further year, and Herrera feels United would be foolish to not keep his compatriot on.
"Of course David should continue," he added. "He has the record [for most clean sheets] in the club's history.
"He has been, four or five years, the best [in] the Premier League. A couple of mistakes won't affect his performance and his wining mentality."
Tags