Mercedes fail with appeal over Verstappen-Hamilton Sao Paulo incident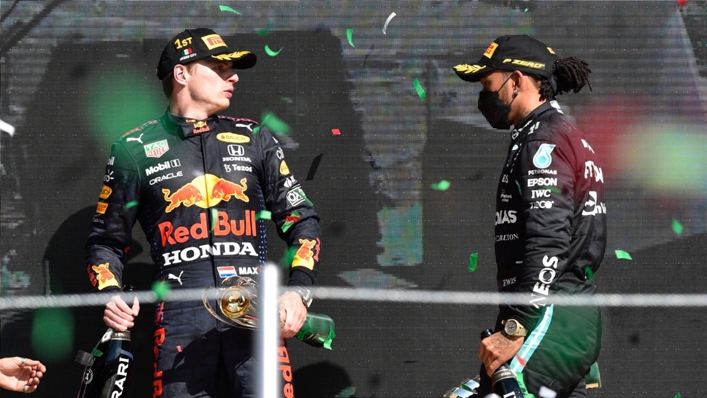 Mercedes have failed with an appeal over an incident involving Max Verstappen and Lewis Hamilton during the Sao Paulo Grand Prix last weekend.
Verstappen forced Formula One title rival Hamilton off the track in Brazil last week in defending his position at the front of the race.
The race stewards "noted" the incident while the race was ongoing, but did not see any reason to penalise Red Bull's championship leader.
Hamilton went on to win the race, reducing the Dutchman's lead to 14 points with three races to go.
The Silver Arrows on Tuesday revealed they had asked for the stewards to take another look at the incident on the basis of "new evidence" from onboard camera footage.
It was confirmed on Friday Verstappen will not face any punishment after the stewards rejected the appeal.
The stewards explained: "There will always be some angles of video footage, because of limits in both technology and bandwidth, that are unavailable at the time.
"Whether or not stewards' decisions are considered to be right or wrong, and just as with referees' decisions in soccer, it does not seem desirable to be able to review any or all such in‐race discretionary decisions up to two weeks after the fact and the stewards therefore seriously doubt that the intent of the Right of Review in the ISC [International Sporting Code] is to enable competitors to seek a review of such discretionary decisions that do not follow on from a formal inquiry by the stewards and do not result in a published document."
Although the stewards agreed Mercedes had provided new and relevant evidence, they disagreed that it was "significant" in this case.
Their statement said: "The stewards often must make a decision quickly and on a limited set of information. At the time of the decision, the stewards felt they had sufficient information to make a decision, which subsequently broadly aligned with the immediate post‐race comments of both drivers involved.
"Had they felt that the forward‐facing camera video from Car 33 [Verstappen] was crucial in order to take a decision, they would simply have placed the incident under investigation – to be investigated after the race – and rendered a decision after this video was available. They saw no need to do so."
Both Verstappen and Hamilton were the subject of stewards' enquiries in Brazil, the latter handed his second penalty of the week due to a DRS issue.
The verdict was announced after Verstappen was fastest in the first practice session at the Qatar Grand Prix.