McTominay reveals Man Utd goals ambition after striking lucky on tour
John Skilbeck
Stats Perform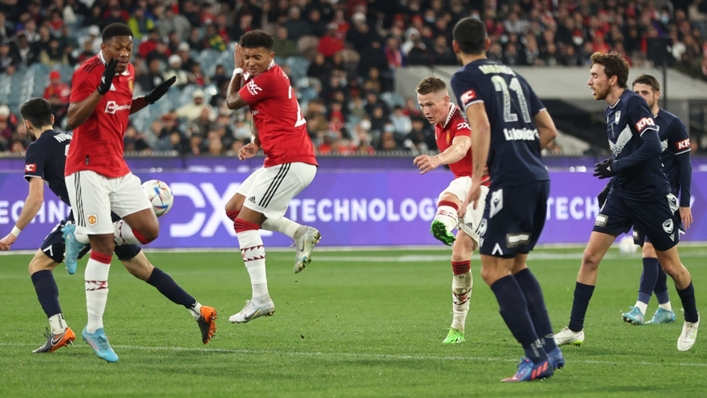 Scott McTominay hopes a fluke could spark a flood as he attempts to transform himself into a goalscoring Manchester United midfielder.
United beat Melbourne Victory 4-1 after recovering from going behind early, with McTominay's deflected equaliser followed by efforts from Anthony Martial, Marcus Rashford and an own goal.
McTominay's 20-yard shot looped up wickedly off a defender and soared over goalkeeper Paul Izzo, and it was swiftly followed by a close-range strike from Martial as United snatched a half-time lead.
Scotland international McTominay managed only one Premier League goal last season, having hit four in each of the previous two campaigns.
Bruno Fernandes is the only United midfielder to have topped five league goals in any of those last three seasons, which points to an obvious problem at the heart of the team.
The Red Devils managed just 57 goals in the 2021-22 Premier League, and under new manager Erik ten Hag they will be expected to present as a more potent outfit.
"It's all of us, not just myself. I know I can score more goals," McTominay said. "The manager wants more players in the box, which is where you score goals."
The signing of Christian Eriksen on Friday should give United more thrust in that area, while the club are also eager to sign Barcelona's Frenkie de Jong.
McTominay believes the straight-talking Ten Hag has the ideal understanding of how to get the best out of United's playing pool, by avoiding complicating his ideas.
"For us, the level of detail which he's talking about is so easy to understand. All his ideas can come at once, and we can take them on board," McTominay said.
Speaking to MUTV, the Scotland international added: "Whenever we've got a new manager, there's a lot of new ideas and a lot of things we have to take on board, in terms of the ideas the manager wants.
"Everyone's so, so happy with the new coach in terms of the detail and the attention to the work we're doing, and everyone's so fit now, and we can get fitter. I can get fitter and the whole team can, which is obviously a benefit for the future as well."
Ten Hag played different starting XIs in each half as he took another opportunity to look at his wider pool of players, rather than the established stars, just as he did when United beat Liverpool 4-0 on Tuesday.
He felt United were rewarded for persistence and was glad to give outings to Ethan Laird and Tahith Chong, a fringe pair who are fighting to become established in the first-team squad but may be loaned out.
"That's why we took them with us. I wanted to have an impression of all the players," Ten Hag said. "They got the chance to show what they can do, what they are capable of, if they can contribute immediately to Man United or it may be a loan period is better.
"All the possibilities are there, but it is good United had some talents, but they need improvements and they need development."
Tags