McIlroy feels 'as complete a golfer' as ever after claiming DP World Tour top spot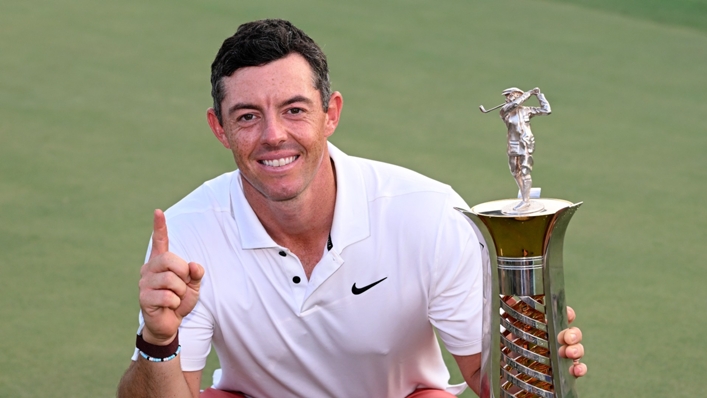 Rory McIlroy declared he is "as complete a golfer as I've ever been" after finishing top of the season-ending DP World Tour rankings for the fourth time.
Jon Rahm secured his third DP World Tour Championship on Sunday, but a fourth-placed finish for McIlory gave the 33-year-old reason to celebrate at Dubai's Jumeirah Golf Estates.
McIlroy added the Harry Vardon Trophy, awarded to the DP World Tour's number one, to his FedExCup victory in 2022.
The Northern Irishman has enjoyed an impressive season, recording top-10 finishes at all four majors, while he did not drop below 12th place at any of his 10 DP World Tour events this term.
That consistency led McIlroy to suggest his golf is in the best place it has been in recent memory.
"I think one of the things I'm really proud of over the last few years is I don't feel I have to rely on one aspect of my game," McIlroy, a four-time major winner, told Sky Sports. "I think if my driving isn't there, then my putter bails me out.
"If my putter isn't there, my iron play bails me out. I feel like when you get to this level it's like, okay, how can you make those incremental improvements to get better?
"I think my goal has been to just become a more complete golfer and I feel like I'm on the journey to doing that.
"I'm as complete a golfer as I feel like I've ever been, and hopefully I can continue on that path."
Meanwhile, McIlroy's Ryder Cup team-mate Rahm reflected on a positive year of his own after collecting his third triumph of the season after winning at the Open de Espana and the Mexico Open.
"Hopefully people can stop telling me that it was a bad year," Rahm said.
"Three wins worldwide and three wins in three different continents. Yes, it wasn't a major championship but it's still a really, really good season."
Tags