McCollum gets two-year, $64million extension from Pelicans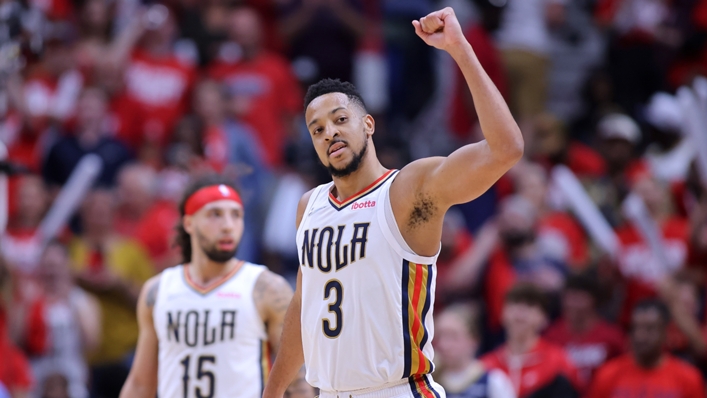 The New Orleans Pelicans and star guard CJ McCollum have agreed to a two-year, $64million contract extension, according to reports.
The deal, as reported by ESPN's Adrian Wojnarowski, keeps McCollum signed through the 2025-26 season, tying him to fellow stars Zion Williamson and Brandon Ingram, who are signed through at least the next three seasons.
McCollum – who was acquired from the Portland Trail Blazers in February – was a scoring machine down the stretch for the Pelicans and helped lift New Orleans into the play-in tournament and, eventually, a compelling six-game series against the top-seeded Phoenix Suns.
The 31-year-old guard averaged 24.3 points in 26 games with the Pelicans last season, shooting 49.3 per cent from the field and 39.4 per cent from three-point range.
With one offseason priority completed, the Pelicans can now turn their focus towards getting Williamson back on the court after he missed the entire 2021-22 season with a broken right foot.
New Orleans fans spent much of last season waiting for Williamson's return, which never came.
Williamson averaged 27 points over 61 games in 2020-21.
With their stars now fully healthy, the Pelicans carry elevated expectations into this season, despite playing in a loaded Western Conference.
New Orleans' high-scoring trio of stars is accompanied by veterans like Jonas Valanciunas, Larry Nance Jr. and Devonte' Graham, while second-year defensive ace Herbert Jones is expected to take a step forward.
So much of the Pelicans' potential success, however, relies on health.
Williamson has played 85 career games since being drafted No. 1 overall in 2019. McCollum has missed a total of 45 games over the past two seasons, and Ingram has never played more than 62 games in a season as a starter.