McTominay's emergence for United and Scotland impresses McCoist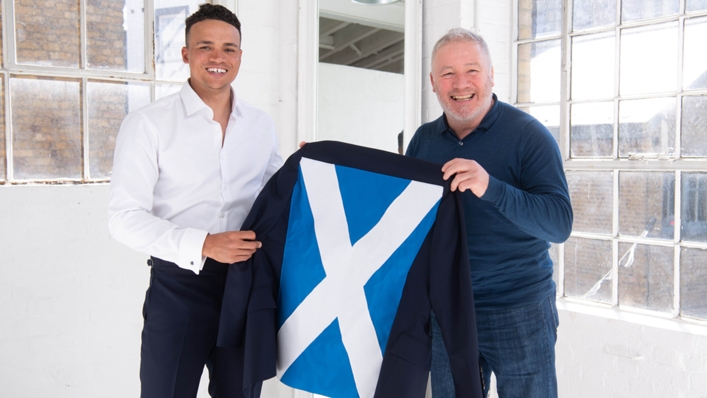 Scotland legend Ally McCoist has been delighted by Scott McTominay's recent emergence as a key man for both club and country.
The 24-year-old featured in 49 games across all competitions for Manchester United last term as they finished second in the Premier League and reached the Europa League final.
He also helped his country secure their first major tournament appearance since the 1998 World Cup with a play-off victory over Serbia that ensured they will be at this year's European Championship.
It is a development that has somewhat surprised McCoist, who scored 19 times for Scotland across a 61-cap international career.
Speaking to Stats Perform on behalf of official UEFA Euro 2020 partner Heineken ahead of the action getting under way, he said: "I have been absolutely delighted and pleasantly surprised at the massive improvement in Scott McTominay.
"I thought he was the best player on the park in the Europa final, which was a poor final I have to say. I knew he was capable of playing well, but his level of consistency and performance level for United and indeed Scotland has pleasantly surprised me.
"I don't want say it in [a way that] is not respectful to Scott McTominay, it's quite the opposite. I've been absolutely delighted with the improvements he has made as a player both at club level and international level.
"It says as much about Scott McTominay that there's every chance we play him in a position that he doesn't play with Manchester United, probably on the right of a three defensively. It's probably a bit of a surprise but a really pleasant one."
McTominay is not the only member of Scotland's squad who has endured a gruelling season, with captain Andy Robertson having clocked up 50 games for Liverpool.
But McCoist has no concerns about burnout – he instead believes that players will be invigorated by their country's rare appearance at a major tournament.
He continued: "It wouldn't be a concern for me. We can't have it both ways. One of the problems in recent years and one of the reasons we haven't qualified for major tournaments is that we haven't had top players playing at the top level.
"We've now got top players playing at the top level; Andy Robertson is one of them, [Kieran] Tierney, McTominay, [John] McGinn, the two lads at Southampton [Stuart Armstrong and Che Adams].
"I don't think it's rocket science, we've now got better players playing at a better level and that's one of the reasons we've qualified for the Euros.
"With Andy, obviously it's the Scottish lads' dream to play at a major championship, we haven't done it for 23 years.
"So boys like that, of course they've had a lot of football, I accept and appreciate that, but they've had a little bit of a break, they're now at their training camps, they've [had] a couple of friendlies – I think they'll be absolutely raring to go.
"Their enthusiasm and adrenaline will have them so fired up, I think we'll be absolutely fine."
Scotland have been drawn to face three teams all placed higher than them (44) in the FIFA world rankings in England (four), Croatia (14) and the Czech Republic (40).
But with four of the six teams who place third in their groups also going through to the knockout stages, McCoist is confident that Steve Clarke's side can progress.
He added: "I think the great thing from our point of view is the fact that there's a low expectancy level from outside.
"We obviously want to do well and we'll do as well as we can but we're pretty realistic about it. You look at the group and we're probably outsiders but I honestly believe we can win our first game.
"England, for example, have just got a far better team and far better squad than us – that's not to say we can't win the game, but they've got one of the most talented squads in the tournament.
"But I think on our day we can beat the Czech Republic and if we can manage to do that then I think with four teams qualifying from the section in third place, I don't see any reason why we couldn't qualify from the group. I think that's got to be our target, it really has.
"Is it achievable? Yes it is. It'll be very, very difficult because England, Croatia and the Czech Republic are all top sides, but I think it's achievable."
As part of Heineken's global 'Finally Together' campaign which recognises the long-awaited reunion with fans and the rivalries that go alongside, McCoist stitched up England rival and fellow pundit Jermaine Jenas with the ultimate friendly wind-up – posing in a tailor-made suit emblazoned with the Saltire across the back.
He said: "Jermaine is a dapper fellow who can strike a pose even better than he could a football.
"We just knew he wouldn't be able to resist the offer of tailor-made suit and a photoshoot.
"Everyone present could see what was on his back apart from him and I took great pleasure in getting him to model it for the camera.
"Jermaine's face was an absolute picture when he realised he'd been stitched up. This is a victory for the Scots and I'll raise my glass for another one at Wembley!"
Tags