McClaren: England and United benefitting from Mourinho's Shaw approach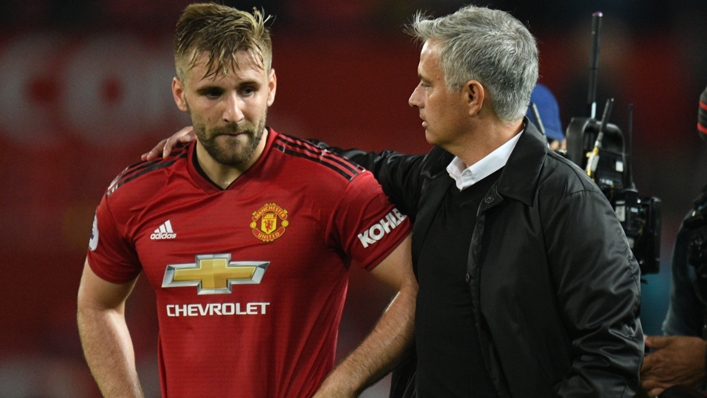 Gareth Southgate and Ole Gunnar Solskjaer are benefitting from Jose Mourinho's "hard-line" approach to managing Luke Shaw at Manchester United.
That is according to former England boss Steve McClaren, who believes the United full-back's strong recent form owes much to the lessons he learned under his former manager.
Shaw started just 17 Premier League games out of a possible 76 during Mourinho's two full seasons at Old Trafford and was a regular target for criticism from his boss throughout.
Disagreements between the pair have not subsided since the latter's departure from United, either, with his punditry during Euro 2020 prompting their most recent war of words.
However, McClaren is convinced that Shaw's improved performances for club and country over the past 12 months are a consequence of the tough love he received from Mourinho.
He told Stats Perform: "The key relationship is always the player and the manager. Whenever you move clubs, whenever you go to a new situation, internationals, whatever.
"Maybe Shaw was in a moment also in his career where he needed Jose Mourinho's management – maybe everybody's [previously] accepted [his behaviour].
"And maybe you come with a hard-line manager who won't accept this, won't accept that. And this player needs teaching and this player needs the hard line.
"Unfortunately, you're the manager that suffers because of that. Because Shaw's probably been through that and is a more mature, more professional, and a better player.
"Who's benefiting? The manager after, which is Ole and which is now Southgate with England.
"So, it's a journey for a player and you always want a manager that likes you and loves you, plays you.
"Sometimes you don't [have that] and that teaches you lessons that stay with you when you do come to a manager who does like [you], you love and you will play."
Shaw's recent renaissance at international level has come under the guidance of one of McClaren's former charges in Southgate.
This year, the England boss has backed up leading his country to a World Cup semi-final by helping them to the same stage of Euro 2020, prompting a nation to dream that glory could lie ahead.
And that success has come as no surprise to McClaren, who believes the Three Lions are being coached by a man who has always shown a knack for leadership and bringing people together.
He said: "I remember signing him as my first signing for Middlesbrough. [He was] an important signing and I wanted a captain, I wanted a leader in the dressing room, and I bought him for leadership.
"He epitomised exactly what I wanted in the dressing room and on the field. One, he was a winner. He'd proven that at Aston Villa and England – he was a winner, he wanted to win.
"Number two, he was so professional. And that's what I wanted. That was the main thing. Gareth always did the right thing every day: first in, then last away, fantastic professional.
"And the third and most important thing was as a leader in the dressing room. He brought people together. We had a lot of foreign players, a lot of cliques in that dressing room at Middlesbrough.
"And he would mix with them all. I always remember dinner times, lunch times, breakfast, whatever meetings we had, the cliques would always sit on one table and everyone would always sit on one side, which was fine.
"But every meal-time Gareth used to flit from one table to the other. And he used to mix with everybody, he knew the importance of the squad, the team sticking together.
"And that's what he's brought to England. The key thing for me is it's like England's like a club side in the present moment.
"I think being the Under-21 coach for that many years, he's had all these players, he knows them inside out. He's got a story with every one of them.
"He knows the best ones, he knows the characters, knows what will gel, he's brought them into the England team, grown up with them really. And now they're like a club side.
"And that's what's driving it for us."
Tags