Deschamps: Mbappe's PSG deal is brilliant for French football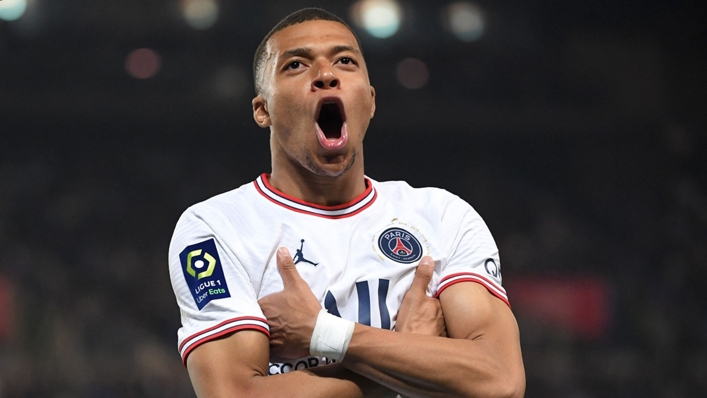 Kylian Mbappe staying at Paris Saint-Germain can only be a positive outcome for French football, according to Les Bleus coach Didier Deschamps.
World Cup winner Mbappe appeared set to move to Real Madrid when his contract expired in June, but opted to sign a three-year extension with PSG.
That denied Madrid talisman Karim Benzema the chance to link-up at club level with international team-mate Mbappe, who insisted he stayed at PSG "because the project had changed" and for sentimental reasons.
Deschamps will have the attacking duo to call upon for the Nations League campaign, starting against Denmark next Friday, and the France coach was delighted to see Mbappe stay in Paris.
"It's his choice. It's obvious that he stays in Ligue 1, it's a very good thing for French football," he told reporters on Saturday.
"He is attached to the club, he said what he had to say but in being French, that can only be a good thing.
"We can grow by staying. Today the objective of PSG is the same as in all the big clubs, and to win the Champions League. It may be necessary one day to go abroad, but that is not an obligation.
"We are not going to speak in other periods when there was a lag compared to France. But today, the choice of players is not the same.
"It is perhaps less of an obligation to go abroad to accomplish beautiful things."
There were reports of tension between Benzema and Mbappe after the former uploaded a photo of late rapper Tupac Shakur that was deemed to be a veiled reference to betrayal.
Benzema has since denied those suggestions, insisting he does not feel betrayed by Mbappe, and Deschamps does not envisage problems between the pair when they arrive for international duty.
"From my position as coach, where I have the players live where I know from A to Z what is going on, the main thing is the group," he added.
"It can lead to misunderstandings. From a situation where we can all draw negative conclusions when they are not necessarily negative... It can turn into a misunderstanding, which does not reflect reality.
"Today with the connected world it can go very very quickly, the slightest photo goes quickly. Even if I'm not on there!"
Christopher Nkunku, Moussa Dembele and Wissam Ben Yedder will also join Mbappe and Benzema in France's attacking ranks, with Olivier Giroud missing out from selection.
Deschamps says he did not call up Giroud as he wanted to offer the likes of Nkunku, Dembele and Ben Yedder a chance to show their worth.
"I said that in relation to the attacking players, who will be supposed to have a little more playing time," Deschamps continued.
"Olivier Giroud is not with us, it's to give playing time to Moussa, Christopher and Wissam, who are with us regularly, who have had playing time and will have the opportunity to have a little more.
"If possible we will make sure to involve everyone, some will play more than others. Through the four meetings, we will make sure that they are active, so that they get stronger, to have more experience. It will give additional information on the final list for the World Cup."
Tags