Mayock backs Raiders after Gruden email scandal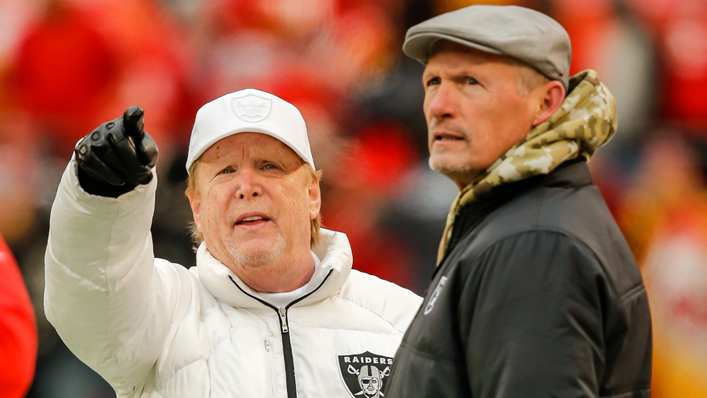 Las Vegas Raiders general manager Mike Mayock insisted the franchise stand for diversity in the wake of Jon Gruden's controversial resignation.
Mayock became the first Raiders member to address the media on Wednesday after Gruden stood down following the release of offensive emails via The Wall Street Journal and New York Times, which exposed his use of racist, homophobic and misogynistic terms in messages that reportedly date back to 2010.
Raiders owner Mark Davis had provided a brief statement following Gruden's resignation, stating he accepted his decision amid the NFL's investigation was prompted by media reports that brought to light the alleged emails.
"The way I grew up, the Raiders always stood for diversity," Mayock told the news conference. "They had the first Latino quarterback, Tom Flores, he's also became the second Latino head coach, the first African-American head coach was Art Shell. The first female CEO was Amy Trask.
"Obviously, all of that was under [former owner] Al Davis' watch. Now this week, his son Mark Davis had a tough time. He had a tough week. He'd gather facts here to do is due diligence.
"Since the day I took this job almost three years ago, what Mr. Davis has preached has been three things. It's been diversity, social justice and domestic violence."
Mayock also defended the timing of Gruden's departure, after he led the side in their Week 5 loss to the Chicago Bears on Sunday.
"I have resigned as Head Coach of the Las Vegas Raiders. I love the Raiders and do not want to be a distraction. Thank you to all the players, coaches, staff, and fans of Raider Nation. I'm sorry, I never meant to hurt anyone."

Jon Gruden
"I think the reality of that is that Mark Davis really is the one that was dealing with that," Mayock said. "I don't want to speak for Mark, but there was an awful lot of due diligence that had to go on.
"All I knew was that a bombshell had dropped. The players talked about it. We talked about it with the players. Jon dealt with it. Mark was dealing with all the email stuff.
"We were trying to prepare for a football game. And then when it came out of the game and the rest of it came out, I think Mark was already in the middle of the due diligence.
"I think he was trying to figure it all out. I know what the guy stands for, and I think he was trying to do the right thing."
Mayock said the Raiders were offering support to the African-American players within their ranks, along with defensive end Carl Nassib, who became the first active NFL player to publicly come out as gay in June. Nassib took a personal day on Wednesday in the aftermath of Gruden's resignation.
"I've talked to several of the black players. We've reached out to a bunch of players, black and white," Mayock said. "Everybody's got emotions and feelings. I've talked to some of the people in my department that are black.
"My director of pro scouting [Dwayne Joseph], and I just said, 'DJ, I can't put myself in your shoes. Help me.' So we've spent a pretty good amount of time trying to help these guys and talk with these guys and not talk at them, but with them.
"The other thing I would say is for Carl, let's be honest, he's a community of one that's openly gay. We do have a large community of African-American players and I'm trying to, we're trying to do everything we can for that community as well obviously. It started there. Nobody's forgetting that. I'm trying to work with everyone, and we're going to continue to do that."
The Raiders GM offered a strong backing to interim head coach Rich Bisaccia, who will step up from the special teams coordinator with the side 3-2 for the season.
"The irony is, I've endorsed him for a lot of head coaching jobs over the years, both in college and the NFL," Mayock said. "What I've always told people when I endorse them is that he's the most natural leader of men that I've ever been around."