In Focus: In-form Cornet can push Burnley to the Max
Mitchell Fretton
LiveScore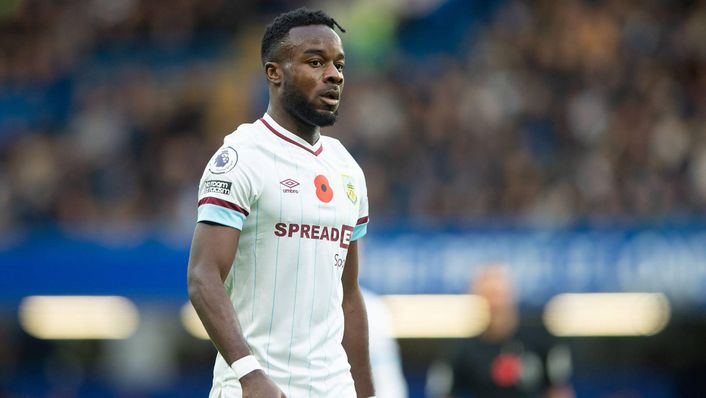 Burnley have hit the jackpot when it comes to summer signing Maxwel Cornet.
The 25-year-old signed from Lyon in the summer of 2021 and has already announced himself in the Premier League.
Having scored four goals in six league games so far this season, Cornet has quickly become an integral part of Burnley's effort to avoid relegation.
We take a look at the Ivorian winger — who decided to leave behind European football in favour of playing at Turf Moor — in more detail.
Leaving Lyon
Cornet signed a five-year deal with the Clarets in August after Burnley forked out £13million for his services.
The Metz academy graduate joined Lyon in 2015 and was instrumental in the Champions League quarter-final victory over Manchester City five years later.
Cornet scored the first goal in the one-legged tie as UEFA implemented a mini-tournament in Lisbon due to the implications of the coronavirus pandemic.
During the 2020-21 campaign, the midfielder played 36 times for Les Gones — scoring twice and registering five assists.
His performances were underwhelming compared to what the French giants had been expecting and this would ultimately allow Burnley to acquire Cornet for such a small fee.
Perfect for the Premier League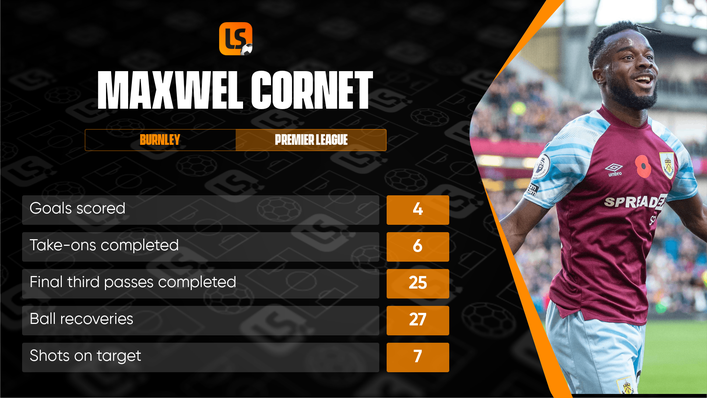 Cornet signed for Burnley relatively late in the transfer window, meaning he was unable to integrate into the team's pre-season plans.
That absence makes his performances so far even more impressive — the winger scored his first goal for his new club just seven days after he made his debut in a 2-2 draw with Leicester.
Cornet can also play as a full-back if needed and often did so for his former side.
His pace and flair allow him to take on his opponents and he often likes to drive into the box before unleashing a shot on his favoured left foot.
Cornet's ability has caught the eye of several pundits in the early stages of the season, including former Arsenal defender and Match of the Day regular Martin Keown.
Following a 2-2 draw with Southampton in which Cornet scored twice, the ex-Gunner said: "He can finish, there is no doubt about that. He gets up well and I think he likes playing with big men around him.
"He lets it come across his body and that is a thunderous strike from there, really outstanding."
The praise for Cornet has not been limited to pundits, with Burnley manager Sean Dyche also recognising the potential of his star signing.
He said: "The thing we're most pleased with is not that he looks like his play can affect us, obviously, but also his mentality.
"You ask him to move positions, and it's 'okay, I'll do it for the team', and he does.
"He's bought into the fact that he has to work."
Maximising his output
One of the primary reasons for Cornet being the joint-top scorer at Burnley this season is his excellent positioning.
The pacy wide man often plays off the shoulder of the striker, which has proven beneficial as Burnley play a direct style of football.
With either Chris Wood and Jay Rodriguez occupying the centre-backs, Cornet has been able to receive the ball high up the pitch due to their ability to hold the ball up.
Burnley's aerial superiority combined with Cornet's speed has allowed him to get in behind the defence.
This does not take away from the Ivory Coast international's individual brilliance — Cornet scored a fantastic goal in a 3-1 victory over Brentford after curling into the top corner.
The finish, on his weaker foot, demonstrated his importance to a struggling Burnley side — his goals have proved vital in their quest to avoid the drop this season.
His contributions in the Premier League after just 11 games have already proved that his price tag was more than worth paying.
Room for improvement
As with any player who makes the switch to the Premier League, it does take time to adapt to the physicality and constant intensity of English football.
Cornet clearly has the ability to shine but his defensive skills still need some work.
The Bregbo-born trickster has lost 29 duels this season and rarely wins any of his individual battles for possession.
Dyche has highlighted Cornet's need to work to become a better asset for his team defensively.
He said: "We are still working on the other side of his game because in the Premier League the transition is very quick.
"The openness of the defending side still needs a bit of understanding, the fitness and the sharpness of the Premier League. It will come together but it takes a little bit of time.
"We know he can attack and give us something different and we have seen that."
Cornet's Burnley currently occupy the final relegation place having won only one game all season, this suggests that there is plenty of work to do for the Clarets.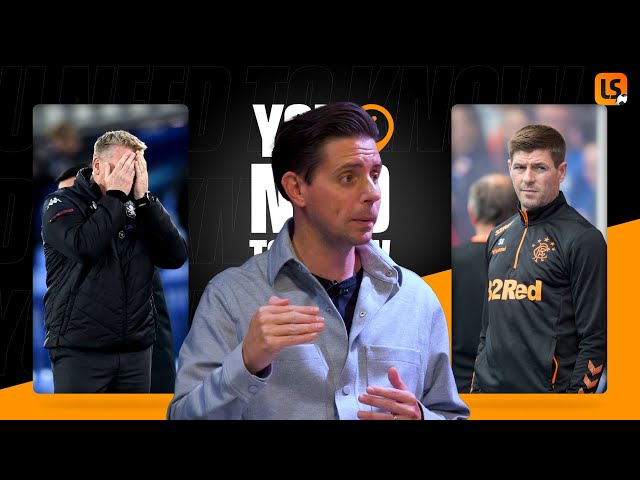 Tags