Verstappen fends off Alonso to take pole position in Monaco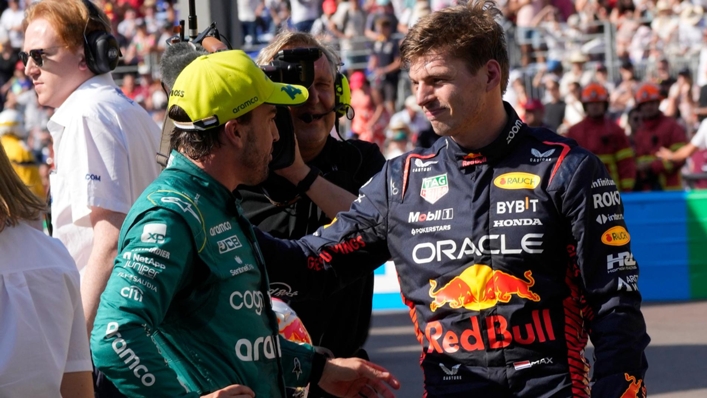 Max Verstappen saw off Fernando Alonso to take pole position in a scintillating qualifying session for the Monaco Grand Prix.
Alonso's Aston Martin mechanics celebrated wildly after it appeared as though the 41-year-old Spaniard had taken his first pole in 11 years.
But Verstappen delivered a mesmerising final sector in Monte Carlo to take top spot with his final throw of the dice, beating Alonso by just 0.084 seconds.
Charles Leclerc finished third for Ferrari, one spot ahead of Alpine's Esteban Ocon with Carlos Sainz fifth.
Lewis Hamilton qualified sixth for Mercedes, two places ahead of team-mate George Russell, with Sergio Perez set to start Sunday's 78-lap race from last place after he crashed out.
"I'm very happy," said Verstappen. "We knew that this was going to be a little bit of a struggle to get everything together.
"In qualifying you need to go all out and risk it all.
"My first sector wasn't ideal in my final lap and I was a bit cautious, but then I knew I was behind so in the last sector I just gave it everything I had, clipping a few barriers along the way. I am happy to be on pole here for the first time."
It has been 3,691 days since Alonso's last pole in the sport and the rejuvenated Aston Martin driver looked on course to finally end his losing streak when he temporarily moved to the top of the time charts after declaring he was "pushing like an animal".
Verstappen was the only driver who could spoil both the dreams of Alonso and Aston Martin, and he trailed the Spaniard by two tenths heading into the final sector.
But the double world champion danced his way through the final part of the circuit to finish clear of Alonso and claim a pole which he will be expected to convert into his fourth victory from the opening six rounds.
Alonso said: "Obviously pole position means a lot in Monaco, but today Max was a little bit faster, which is a shame.
"Let's see what we can do tomorrow in terms of strategy and if there is any weather coming. We will try to win it.
"It's a very short run into Turn 1. We normally have a good start. Max is a bit inconsistent so maybe he has one of those bad ones tomorrow."
Mercedes were banking on their much-anticipated upgrade providing them with a springboard to challenge the grid's all-conquering Red Bull team.
But on its grand unveiling here in the sun-cooked principality, Hamilton was at odds with his new machine.
The British driver, who crashed out of final practice following a mistake at the right-hander Mirabeau, missed the chicane in Q1, only avoiding an early bath with his final lap, before scrambling into Q3 after he grazed the wall at the swimming pool chicane.
"Man this car is hard to drive, mate," said the seven-time world champion, who also reported there was "something wrong" with his right-rear suspension.
He finished four tenths behind Verstappen in Q3 with team-mate Russell six tenths adrift.
Perez is Verstappen's closest championship challenger, but the Mexican driver will start the race at the back of the pack.
The running was just six minutes old when Perez – 14 points adrift of Verstappen in the standings – carried too much speed through the opening Sainte Devote corner and thudded into the wall.
Perez sustained extensive damage to the left-hand side of his Red Bull before coming to a standstill in the middle of the circuit.
"I crashed, I crashed," said Perez, who now faces losing serious ground to Verstappen in the championship race with overtaking extremely challenging at this most unique of configurations.