Matthews revels in 'pretty special' game-winner as Maple Leafs down Lightning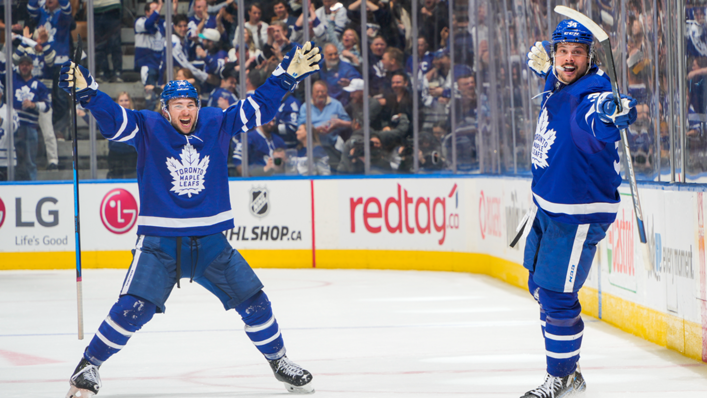 Auston Matthews says his game-winner was "pretty special" after the Toronto Maple Leafs battled back from two goals down to win 4-3 over the Tampa Bay Lightning in the NHL playoffs on Tuesday.
The Maple Leafs trailed 2-0 after the first period but rallied with Matthews settling the contest with their third goal in the third period.
The win means Toronto lead 3-2 in the best-of-seven series against the reigning Stanley Cup champions.
"It was pretty special," Matthews told reporters, speaking about the goal. "To battle back from down two goals, and never losing hope and competing, that was big."
Matthews led the NHL across the regular season with 60 goals but he had not scored in the playoffs since Game 1 of the series.
Teammate John Tavares, who pulled one back during the second-period power play, praised the NHL's back-to-back Rocket Richard Trophy winner Matthews, who was also credited with seven hits.
"His whole game is all just really good," Tavares said. "When you score 60 goals, that's going to get [discussed], and how he scores it in different ways and the uniqueness of his shot in his abilities, but his all-around game is as good as anybody's in the league.
"He's going to play hard and compete because they're making it hard on him to earn his ice and opportunities, so good for him to play them hard."
The victory means Toronto are one win away from the franchise's first playoff series victory since 2004.
"I just think we needed to possess the puck a little bit more," Matthews said. "Get on top of them and be forechecking and not giving them as much time and space. We were on top of them and had our heads up to make plays."
Elsewhere, Adrian Kempe's over-time goal earned the Los Angeles Kings a 5-4 win over the Edmonton Oilers, having blown a 3-1 lead.
The goal was Kempe's second of the game, as he finished with a three-point performance. The result puts the Kings up 3-2 in the series.
The Carolina Hurricanes also moved up 3-2 in their series against the Boston Bruins with an emphatic 5-1 win after losing their past two.
Rookie Seth Jarvis scored twice and Antti Raanta finished with 34 saves.
The St Louis Blues piled on three third-period goals, all from a Vladimir Tarasenko hat-trick, to secure a 5-2 win over the Minnesota Wild to lead their series 3-2.