Mount: Italy draw a 'frustrating' one for England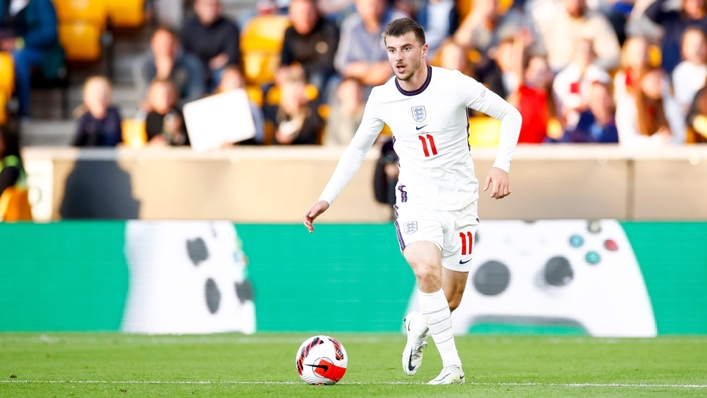 Mason Mount insisted England have to improve in front of goal following their 0-0 draw at home to Italy in the Nations League on Saturday.
England sit bottom of Group 3 after Saturday's goalless draw at the Molineux Stadium, which was played behind closed doors after fan trouble during the Euro 2020 final between the two sides.
The Three Lions' only goal over these opening three games came via the penalty spot, with Harry Kane converting in the closing stages of their eventual 1-1 draw away to Germany.
According to Mount, the creation of chances would be more of an issue than their realisation but England still have to be able to capitalise after a second draw in three games.
"It is frustrating," he told Channel 4 post-match. "Obviously we want to win, we want to create chances and score goals. I probably should have done better with my chance, we had a few other chances, so it is something we need to look at.
"We have created chances but we should have done better with them. We are keeping clean sheets so it is something that is a positive but we need to keep working at it.
"We have had chances today and we probably should have scored, but sometimes you go through little periods where it is difficult. The only thing we can do is keep working hard in training, staying focused and look where we can improve. We have the players to do that, the talent and quality, just work at it."
Predominantly playing in an attacking three in Thomas Tuchel's 3-4-3 for Chelsea, Mount has seemingly found more freedom at international level as a conventional number 10.
Though deployed in a similar role to club level for their opening defeat to Hungary, England boss Gareth Southgate reverted to the 4-2-3-1 against Germany, with the 23-year-old hinting he's more comfortable with the latter despite Saturday's draw.
"I was in a 10 role so it gave me freedom to roam and find spaces, trying to link the midfield to the attacking boys," he said afterwards.
"I found myself in spaces to shoot a couple of time but did not to do well enough from my shot and it was too easy for the keeper. It is a difficult one to take because I feel we could have come away with more.
"We want to win every game, even if it is a friendly. We have looked at the last two games, felt confident in what we do but it is a tough one."
Tags