Mancini unhappy despite Italy win as Rossi praises Donnarumma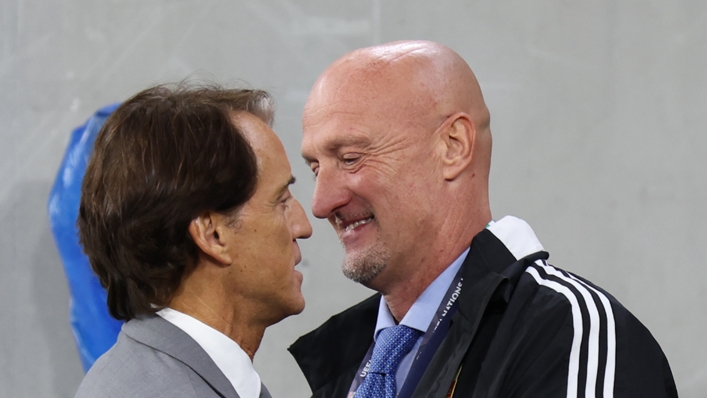 Roberto Mancini was not entirely satisfied by Italy's Nations League win over Hungary, while Marco Rossi hailed Gianluigi Donnarumma as the "best goalkeeper in the world".
Goals from Giacomo Raspadori and Federico Dimarco saw the Azzurri leapfrog their hosts to top Group A3 and qualify for next year's finals, alongside Croatia and the Netherlands.
Yet the visitors were forced to weather a late onslaught from Hungary, kept in the game through Paris Saint-Germain keeper Donnarumma, who lived up to his reputation with a string of impressive saves.
That gradually eroded control over the match frustrated Mancini, who felt his side rested on their laurels too much across the closing stages of Monday's encounter.
"It was a difficult game," he told RAI Sport. "It was all perfect until the final 20 minutes.
"We really need to improve in our ability to control the game for 90 minutes, as we worked so hard to be 2-0 up, so suffering like that in the final 20 minutes just makes no sense.
"We should have kept pushing for a third goal. I lost my voice because I was shouting so much in the final 20 minutes."
Rossi, who played alongside Mancini in a brief stint with Sampdoria almost three decades ago and embraced warmly at full-time, was more philosophical on his side's defeat.
However, the Italian was fast to praise countryman Donnarumma, who after something of a mixed first year at PSG following his Euro 2020 heroics, looks back to his best this season.
"It would have been nice to perform a miracle tonight, but when you play against teams like Italy, you have to make zero mistakes and hope the other side get it wrong," Rossi said in his post-match press conference.
"Even when we did have the chances, we were kept out by the best goalkeeper in the world. It's no coincidence that PSG signed Donnarumma."
Rossi also hailed Hungary's supporters, praising their "great respect and civility" for their opponents in Budapest.
"I've been in football for many years," he added. "I've seen packed stadiums and fans on their feet, but never anything like the passion you can feel when Hungary play on home turf."
Tags