Mancini likely to stay in charge at Italy despite World Cup failure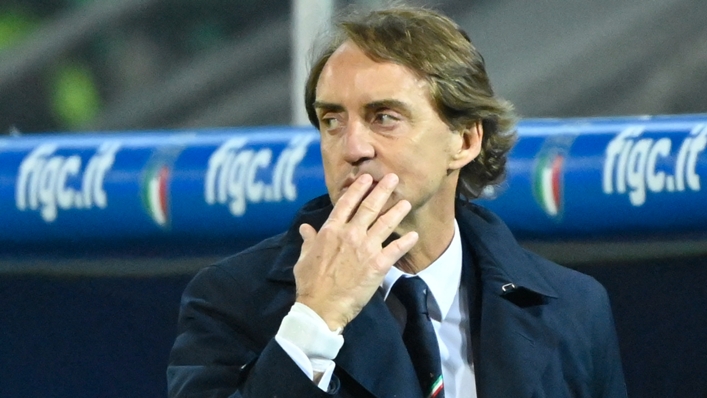 Roberto Mancini suggested he is likely to continue as Italy head coach despite the Azzurri missing out on a second straight World Cup.
Italy responded to failing to qualify for the 2018 World Cup in Russia by winning Euro 2020 on penalties against England in late July last year, their first European Championship since 1968.
The Azzurri also embarked on a world record 37-game unbeaten run, which ended at the hands of Spain in the Nations League semi-final in October, as they looked to make Qatar 2022.
However, Mancini's side failed to top their World Cup qualifying group and could not get past North Macedonia on Thursday in the play-off semi-final as they fell to a late 1-0 loss in Palermo.
That led to speculation over the future of the former Manchester City boss, but Italian Football Federation president Gabriele Gravina assured he would like Mancini to stay at the helm.
Mancini has also reiterated his desire to remain in charge of the national side, a sentiment he echoed at Monday's pre-match news conference ahead of a third-place play-off clash with Turkey.
"I talked to Gravina; we are aligned on everything," Mancini said. "Let's think about this match, then calmly we will think about everything, to understand what to improve in the future.
He added: "There are important national teams that have not won anything for 60 years. Italy is a little further ahead in this, despite some disappointments. Sometimes we exaggerate saying that we must necessarily look for the reasons.
"Despite the great disappointment of Palermo, I am pleased that the work done in these three years has been appreciated.
"It's not just the European Championship, these players must also be given credit for the long streak of matches without defeat.
"We don't just have good players; these are special guys who have created an exceptional group. Not only in the locker room, also everything around [Italy's headquarters in] Coverciano, in the federation, here there is a perfect group that seemed ideal for me to achieve success."
Italy could have wrapped up group qualification earlier but Jorginho missed two penalties in as many matches against eventual winners Switzerland, and Mancini acknowledged his side should not have required the play-offs.
"We should have won our group with at least a two-point advantage over Switzerland," he said. "I don't want to find excuses for what's happened, we have to accept reality and move on."
A lack of younger players being involved with Italy has also brought Mancini's tenure into question, and he vowed to make changes in future to address the problems.
"We have to start over, start thinking differently," he continued. "We will include younger players in the national team, in the hope that they will have more opportunities in their respective clubs as well.
"We will start from this, then we will see what to do in a more general context."
Tags